I attended the Chamber Dinner in Gowrie, Iowa and talked about small town ideas they could use. It was my pleasure to spend a couple of days there. This article talks about small town ideas for the community and by the community.
Got empty buildings?
Every small town has empty buildings and empty lots. Gowrie is no exception.
My favorite thing to do when you have several empty buildings is to host a Tour of Empty Buildings.
An Empty Buildings Tour is a community event that showcases vacant or underutilized buildings. The goal of the tour is to raise awareness of the issue of vacant buildings and to generate interest in repurposing them. Tours can be organized by local chambers of commerce, economic development agencies, or other community groups. It's also a great idea for realtors to get together and host a tour!
It can be as simple as adding buildings to a list to be viewed on a given date and time. Create a map and make it available for people to download or pick up. Market it online and offline. I recommend having the owner or realtor on site to answer questions, hand out information and maybe even show them around.
You could have presentations by experts on issues related to vacant buildings, such as real estate development, historic preservation, and economic development. Tours are often followed by networking events or other activities that encourage participants to discuss ways to reuse vacant buildings.
I created and organized the Empty Buildings Tour in Webster City, Iowa. There were 12 buildings on the tour. Ten were filled within 18 months.
SaveYour.Town has created an Empty Buildings Tour Toolkit if you want to host your own tour.
Share Spaces
Coppes Commons, Nappanee, Indiana: An old factory with 100,000 square feet of space had sat empty for years. Made hoover cabinets. There was little chance another big manufacturer would swoop in and fill it all up. So, a local family bought the factory, they've opened it up, a little at a time, for smaller uses. There's retail space, an ice cream shop, all kinds of cool and fun things. They now have 11 businesses, large and small event spaces, and a business center. And they still have a lot more room to grow in the future. Rather than waiting until someone was ready to fill the whole thing, they split it up, and now they have a thriving retail space.
Addison James is a business that sells clothing. They also have a skin care specialist, photographer and graphic designer in their space.
The Drill Barbershop was one of my favorite places to visit. Phil DeCastro is a big fan of disc golf. He's made it possible for others to participate and provides access to supplies people need. That's a cool thing about living in a small town, it's pretty easy to get involved in the things you like to do.
The Picket Fence offered lots of choices in product. They also have a quilter in their space! You can find them often doing Facebook Live at night so you can shop online with them too.
Incubator
When I was the Chamber of Commerce Director in Webster City, I had an idea for an informal incubator project. We had a building owner that had several buildings downtown. I approached them with the incubator project idea. Put your buildings in the program and you offer 3 months free rent and reduced rent the rest of the year. The chamber agreed to help the businesses that went into those buildings with marketing, and the SBDC (Small Business Development Center) came in to help the business with creating a valuable business plan.
Benefits to the owner:
At the least their utilities were being paid by someone else.
Every building needs love, and this provided that.
The business could leave at any time (remember, it's a way to test out the business idea) or they could stay as long as they wanted!
Did it work? Yes.
Food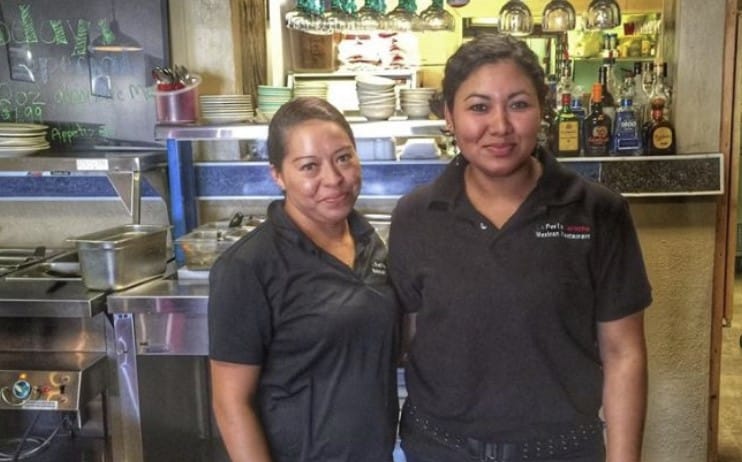 The first business was an Italian restaurant. The town loved it! It lasted a year until the husband got a job out of state. No worries though. The Mexican grocery store across the street wanted to open their own restaurant in the back of the store. The owners were saving for a commercial hood. They took advantage of the incubator project and tested their idea out. They tried new recipes and played around with open hours. And got the word out they were going to open a larger spot soon. Which is exactly what they did.
Clothing
Chicago Style rented an incubator spot for a year, then bought a building in the same block and expanded to be 3x times bigger. They've also helped three other businesses get started in their new location. Incubators are a great way to test out your idea, build your market, and save money for the next step.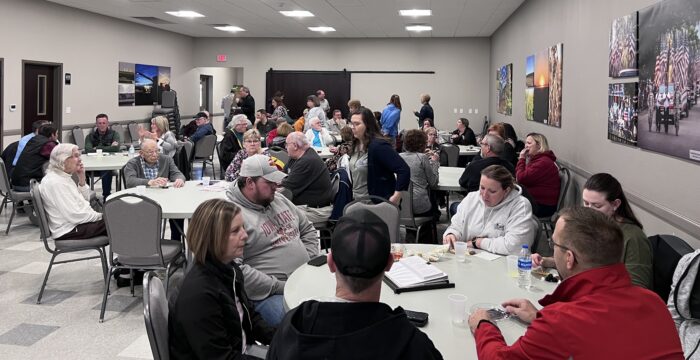 There are some buildings in Gowrie that would benefit from the shared spaces idea. Take a look at the pictures above from the Empty Buildings Tour Idea. Antiques businesses are often seen sharing space. Another great use is for artists to have studio space and retail space.
The Heartland Community Room at the bank features pictures on their walls of the area, and they are for sale. Shared spaces don't have to be similar kinds of businesses.
Murals, signs, windows and more
Signs
In the Webster-Calhoun Cooperative Telephone Association offices they've got flipchart size posters that are hand drawn. It's used to motivate, encourage and to be positive. These are simple and affordable to do. They're not permanent and can be changed out often. It's fun too!
Windows
It's not unusual to see the second story windows boarded over, for a myriad of reasons. I think the owners believe no one is looking at them, and that is not true.
Here's an idea – paint the boards over the windows. The top part of this building is empty and needs lots and lots of work. The old windows were boarded up and looked awful. The picture below is the building Chicago Style bought.
The community vitality director in Webster City, Iowa found a program involving students at Univ.of Iowa and they created this idea. An artist took large pieces of wood and drew on them, in paint by number style. They were taken out to the fairgrounds and were painted by anyone in town who wanted to help. They feature important people and things in Webster City.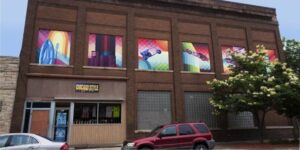 Murals
The local library in Gowrie has painted a mural on the side of their building. The swimming pool also has a painted mural. Where else could you add art to your community?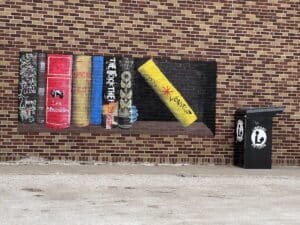 What is that?
There's a lot right downtown that used to be a car wash. It's an eyesore, at best.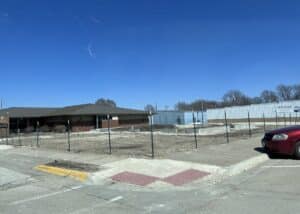 There's good news for some quick changes you can do! The fence around the lot could be put to good use. Display students' art, create banners for the area and hang there, have an art contest, and hang the entries there. Loren Ditzler from Warren County, Iowa sent me this picture. Their county courthouse was torn down and left a big empty pit. (They are rebuilding it.) Until it's finished, they decided to promote their county with banners on their fence.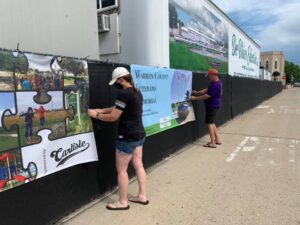 Talk to each other.
There are committed people in Gowrie who are excited to make things happen. Lots of people came two nights in a row to hear me talk about their community. It was great to see them talking with each other about their ideas and getting started. Even the County Supervisors came!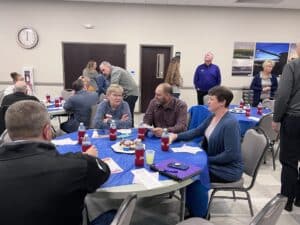 Here's the thing. You want to keep talking, and gathering, and working on your projects. Don't fall into the trap of meeting to be meeting and not getting work done. You don't need committees, or big hairy plans, or permission for most of it. You start with your big idea, gather your crowd, the people who think like you and want to see things happen. Then reach out to others that might be able to help, build your connections. Finally, take small steps. Try things out, see if they work. Let everyone participate in small but meaningful ways.
That's the Idea Friendly Method:
Gather Your Crowd
Build Connections
Take Small Steps
And share your stories, tell folks what you're doing. Keep the excitement going!