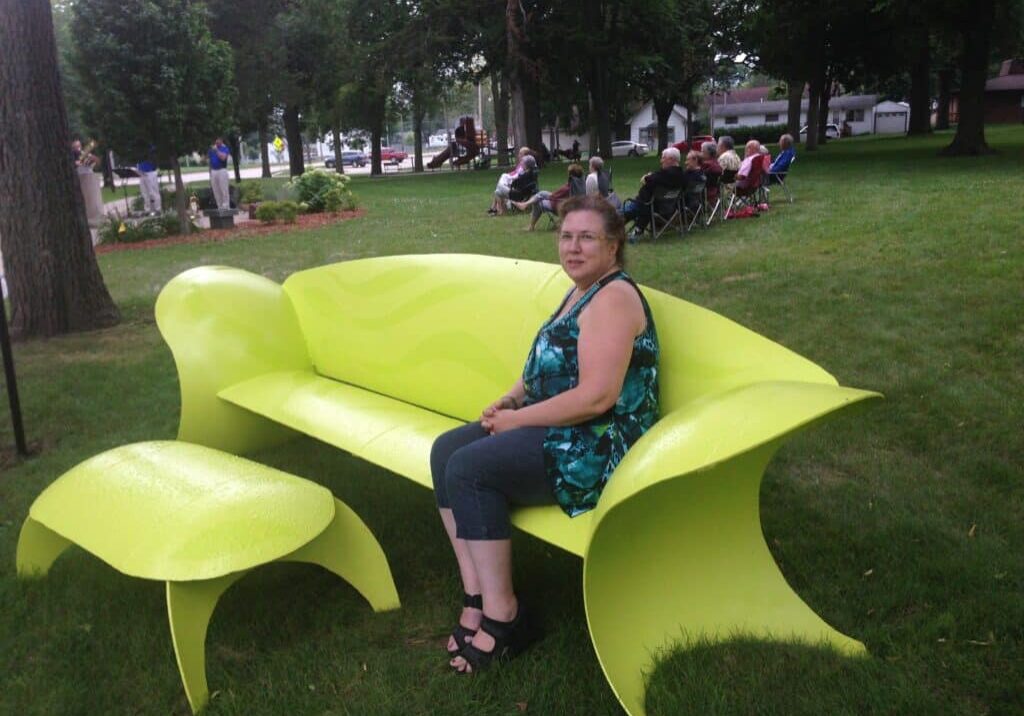 Dr Andrew Van Leuven presented The Economics of Downtown Revitalization: Putting Some "Oomph" Behind the Numbers for the University of Wisconsin Extension Lunch and Learn Program.
I watched the recording and the slide show too. Dr. Van Leuven is the Assistant Professor of Community and Rural Development at Oklahoma State University in the Department of Agricultural Economics. Becky does some work with him and I figured this might be a good presentation to watch. Normally I don't enjoy the strictly academic kind of presentation because the words are ALL on the slides and there's no excitement in the speaker's voice. Lucky for me, this was well told by the good Dr. (He did have all the words on his slides though.)
Let's begin the recap.
Which places pull you in?
Walmart shopping on the highway or downtown Marshfield WI?
It's a case of anywhere versus somewhere – and the downtown was better.
Placemaking is more than just visual.
It builds from place attachment — the bond between people and places—in the process of creating quality places where people want to live, work, and play.
In rural communities placemaking probably should happen downtown. It doesn't need too, but it probably should.
Downtown is the living room of your town.
(This came from Jefferson Iowa.) What guest of yours walks into your house and sits down, what impression are they forming?
Cleaning the living room helps transform it into a place worth investing in. The quality of your town's Walmart reflects back on Walmart. The quality of your business district (downtown) reflects back on your town.
Placemaking helps you clean your living room, transforming it into a place worth investing in. This links the sense of place to economic vitality, doesn't it?
Dr. Andrew next talked about the Main Street program (MSP).
Placemaking efforts like the MSP are hard to quantify because;
they are small-scale,
there is no central hub for data, and
it is not always clear what to measure: is economic vitality only measurable in terms of jobs, or are there other ways to quantify the impact of placemaking?
His research started with the effect of MSP on job/business creation.
The question was "how did job growth differ between communities that adopted Main Street principles and those that did not?
Findings: Looking at all 4 states, no significant effect of Main Street Program adoption on downtown jobs or establishments; looking at Iowa alone, strong statistical evidence that Main Street Program generates new retail jobs and businesses in the downtown business district.
Next, he looked at Main Street and residential property values.
His focus was on Ohio single family home transactions between 2000 and 2019.
Two key questions:
What role did downtown proximity play in home sale prices?
Did that role look different in Main Street Program towns?
Findings: observed an additional sale price premium for homes located in closer proximity to downtown districts with an active Main Street Program.
Main Street and Business Survival
He focused on business establishments in the rural Midwest, 2009–19
Two key questions:
What role did downtown proximity play in post-recession survival?
What role did highway ramp proximity play in post-recession survival?
Finding:
observed higher rates of survival for businesses close to highway ramps (especially manufacturers)
observed higher rates of business failure for businesses close to downtown.
Not all bad news though! Certain downtowns were more resilient: business failure was significantly less likely for businesses in a downtown with strong cultural anchors.
Lessons in Place Based Policy and Programming
Place-based policies and programs cannot be thought of as one-size-fits-all solutions.
There are higher rates of survival for businesses closer to the highway. However, if your downtown has strong cultural anchors, your survival rate is better.
Even the best studies are limited. Each small town is its own small town, they are not all alike.
Rojean Madsen said in 1983 "no substitute for equipping decision-makers with pragmatic knowledge, rich with local context and actionable implications."
Future research he wants to do:
Continued quantitative examination:
look at additional outcomes that downtown revitalization is assumed to affect (examples: sales tax revenues, commercial real estate sales, new home construction)
New qualitative examination:
capture more nuanced measurements of "success," such as civic pride or an enhanced sense of place.
His conclusions:
Putting a focus on downtown placemaking is not the same as advocating for the neglect of other retail and business districts. Rather, it is a recognition of the need to keep the "living room" clean.
The rural U.S. is home to a rich variety of communities where visitors can feel like they are somewhere. Placemaking efforts help preserve that asset, preventing such places from feeling like anywhere.
Despite the growing (or in many places, fully grown) momentum for downtown revitalization, continued public and private investment should be justified by plausible evidence of its efficacy.
Not every piece of evidence will originate from a rigorous, years-long econometric study (and that is completely okay!). However, when possible, it is beneficial to have a strong empirical analysis to help strengthen the argument for continued support of downtown revitalization efforts.
My conclusions:
Becky and I know this, there is no one template that will work for every small town. I know that finding out what people want, showing them ways to get it and having conversations that involve everyone helps to get things done. Research is good, but too much research is not.
Creating a 'somewhere' for your locals first matters.
Don't spend years trying to understand what the problems are. Most of you know what the problems are! Let's get started on implementing the Idea Friendly Method and clean up our downtowns.
My thanks to the University of Wisconsin Extension and Dr. Van Leuven.