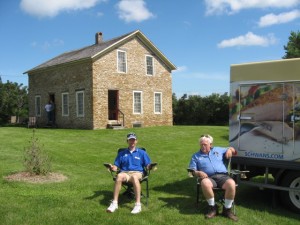 I believe we must tell the stories of our history.
Begin with your local history.  Get involved with the local historical society.  Find the old people and ask to hear the stories.  Find a way to get those stories on paper or on video.
Give your time or your money or both.  Get your kids involved.  Put some skin in the game.
Don't tell me you're bored.  Don't tell me you have nothing to do.  Be a part of your community.  Start by finding the stories of those that came before you.
Visit http://historyinfranklincounty.org to see the project we created.  We're building a website/blog that tells the stories.  We got a grant for it and are making it happen.
Professor Johnston often said that if you didn't know history, you didn't know anything.  You were a leaf that didn't know it was part of a tree.  ~Michael Crichton, Timeline
I've accepted a 30 day challenge.  For the next 30 days I'm going to use a picture and tie my blog into that picture and write about how that picture represents one of my core values.  At the end of the 30 days I will have identified what I believe are my core values and beliefs.  Care to join me?