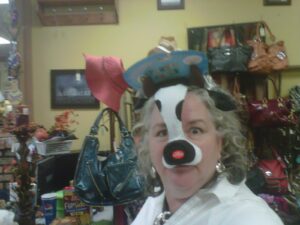 I'm speaking at a conference on November 1. http://smalltown.140conf.com It's a big deal.
I found out last night that there is a costume party October 31st for the speakers.  650 feet underground.  You'll see the pictures I'm sure!  I have not been to a costume party for over 30 years.
I picked up the phone and called Becky McCray to ensure I had read that email right.  Normally I just talk to Becky on email, facebook or twitter.  This action warranted a phone call.  Becky was relaxing on her couch and took my call.  A year and a half ago I considered Becky one of those online superstars.  No kidding – she knows everyone, gets things done and is amazingly brilliant.  We had been chosen as bloggers du jour for the Hutchinson KS bloggers tour.  Oh yes – I was star struck.  Becky gave me her cell phone number on that trip.  Things have never been the same since.
We're now friends – and laugh about my groupiness.  Becky is the kind of woman who brings out the best in people, she actually expects it.  She also believes that you can do just about anything.
The next phone call I made was to Mel Mayberry.  Now there's another friend that can do just about anything.  In my costume panic, I knew she was the one who would have costume ideas.  And of course she did.  There's the jellyfish idea for starters.  She had made a jellyfish out of an umbrella and some ribbon for her niece.  I was relieved.  Mel called me back later to say she had a better idea.  Mel knew that I could not be taking pictures, tweeting and running my Flip camera all while holding an umbrella.  What if I borrowed her gray wig and went to as a 60's hippie?  It was just perfect!
Keep in mind that Mel has been on the road all weekend and had just gotten home.  She dropped everything to answer my plea.  Yup, she's a good friend.
I'm a very lucky woman.  I have quite a few dear, good friends.  Denise who's literally known me all of my life.  Keri – who I make her stop talking until I can get my notebook out to take notes.  Brook who recognized the diamond I am and helps bring out the stunning in me. I believe you are actually made better by the friends who surround you.  It's an ebb and flow – sometimes you're the friend giving and sometimes you're the friend getting.  If you find yourself at one of those places more often than not – perhaps you need to take a look at the kind of friend you are!
"Tell me what company thou keepst, and I'll tell thee what thou art."
– Miguel de Cervantes (1547 – 1616) Spanish novelist.
I've accepted a 30 day challenge.  For the next 30 days I'm going to use a picture and tie my blog into that picture and write about how that picture represents one of my core values.  At the end of the 30 days I will have identified what I believe are my core values and beliefs.  Care to join me?
the picture is me in a costume cow face available at Cornerstone Cottage in Hampton Iowa – owned by another friend, Judy Wrolson!