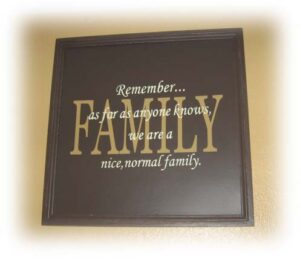 We have many core beliefs and values.
The strength of family is one of them for me.
Now my family (like most families) has some dysfunction going on.  But so what?  That's really life if you think about it.  Nothing is perfect, the weirdness makes us stronger and builds our identity.
I learned my earliest values from my family.
Do it right, it's easier.
Tell the truth cause Grandma will always find it out if you don't.
You can do anything, and you'd better.
We don't act stupid because that's just stupid.
Now that I'm an adult and have a dad with Alzheimer's I'm learning some new values.
I can do magic (Dad says so).
Magnets in your shoes make it so you can't fly.
Cherish the babies, they are really angels.
You don't get older, you just forget more.
Sometimes your dreams are more real than your awake thoughts.
I've accepted a 30 day challenge.  For the next 30 days I'm going to take a picture and tie my blog into that picture and write about how that picture represents one of my core values.  At the end of the 30 days I will have identified what I believe are my core values and beliefs.  Care to join me?