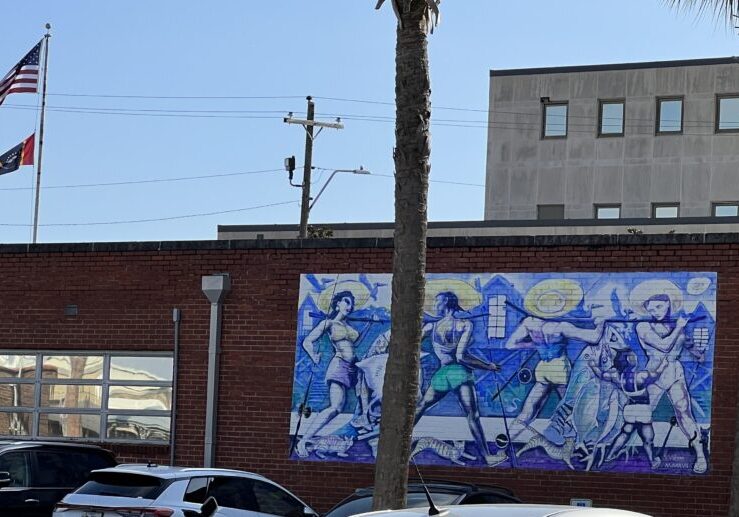 I attended Placemaking in Small and Rural Communities online conference hosted by USDA and the University of Kentucky. It was all day, and I was able to attend most of the sessions. Enjoy this article that shares the tidbits I gathered.
Why attend something like this?
I work in rural communities and placemaking is vital to their growth. I like to gather stories, links to important information, and ideas. Then I share them with you.
There was a place to ask questions, share links to articles and events and to view attendee ice breakers.
I asked How often are arts the subject of small-town events?
There were a few answers and I find it interesting the more Idea Friendly an event or activity is, the more action around it. Here's a couple of answers:
Our town, Cabot, VT, is about 1200 in population. We have a local arts association. Live music at least once/week somewhere in the village. There's a pub with local craft beer in our hardware store that hosts music.Fiber arts show and tell once/month. Once/summer we host a broader outdoor arts festival. Apple Fest in the fall with craft kiosks. And then a 12th night festival in January. And more.Most of the towns, some under 1000, around us host at least one music festival in the summer. It's a hopping place. People gather. They'll pay up to $20 for professional musicians from away, but most events are by donation.Some mural painting in public spaces. Playground building. Lots of volunteer energy required.
Our local events always include live music and crafters, but the food draws the attendees and the events are usually history focused. We would love to have a more art-focused event!
Another person asked about Volunteers.
Here are those answers:
I worked for a small Indian Tribe in the 90's and a friend of mine who had worked for Acorn would start knocking on doors in the community if people weren't showing up for a community meeting they had said they would be at. Talk about grass roots organizing! She didn't take no for an answer.
Judy Larson in SD answered a question about volunteers. Judy is Idea Friendly! I love this topic and have spent years working on ways to recruit and retain volunteers, with some success (and some failures! But always lessons learned).
Tiny tasks, fun opportunities to serve, dissolve standing committees and make ad hoc committees.
Stop doing the things that people don't want to volunteer for (sounds harsh, but it really helps us look at what matters to people).
Trade volunteer time with other groups, i.e. work at a Lions club function to help them out and they return the favor by working your event. That way your volunteers aren't overwhelmed if you are a small organization.
Plan activities based on the assets around the table (asset based community development).
Childcare was discussed
This is one idea for finding help.
There's a Girl Scouts class (and probably a Scouts one too) on babysitting and EMT skills so they may be able to provide this and build those social-community connection.
Links Shared:
First Impressions via Extension office
https://economicdevelopment.extension.wisc.edu/first-impressions/
Innovation Matters: Funding Opportunities, Publications, Events and Learning
https://content.govdelivery.com/accounts/USDARD/bulletins/27e0a04
Mapping rural America's diversity and demographic change
https://www.brookings.edu/blog/the-avenue/2021/09/28/mapping-rural-americas-diversity-and-demographic-change/amp/
Example of a rural agrihood
https://www.urbanpeacegardens.org/
Rural Development session:
This was a panel discussion. Rural Partners Network was shared. This site is the front door to federal programs and information; a place where you can learn from others working to improve their rural communities. https://www.rural.gov/
400 offices across the US – they serve undeveloped or underdeveloped communities. https://www.rural.gov/community-networks
Rural by Choice session
Lynn Seeley presented. New Ruralism Initiative Case studies were shared and this link has more info:
https://nne.planning.org/knowledge/new-ruralism/
Their categories they emphasize are:
Focusing on food
People helping people
Buildings jobs on our strengths
Energy of Volunteers
Other innovative rural initiatives
Marci Penner spoke about their work in Kansas with the Kansas Sampler Foundation. Marci is a rural hero of mine, and anytime I get the opportunity to listen to her, I do. Check out what they are doing in Kansas.  Kansas Sampler Foundation | Pursuing Everyone's Love for Kansas
We know to look for the long-term ripple effects. Small steps really do count and make a difference.
Jeff Siegler, keynote speaker.
No one can fix your problems externally. The promise of a silver bullet is an empty promise. We have to do the work ourselves. Pride, self-esteem, a general feeling of well-being – put in the effort to grow those.
We are proud of the things we have ownership over. If someone in your town goes big, you are proud.
Beauty matters. Aesthetics matter. We pay more for it. It's a demonstration of quality and craftsmanship.
Walmart is not just one store, it's 50 stores under one roof. That's 50 families without a business.
It's an emotional issue, we have to heal emotionally.
Celebrate –
Your tradition, your history, what makes you special, your identity
Raise your standards –
Don't worry about the pushback. Deal with vacant and blighted property. Say 'we noticed and showcase those properties. Don't hide them.
If you tell them how to build, they will still come. Don't think that setting standards will stop developers and builders from coming.
Increase ownership and connection –
If you call the city, someone should call you back. If you don't get reciprocation, you stop caring.
Create beautiful public spaces.
Connect – gather – meet people socially –
Have block parties! Get out and do things. Go to lunch outside, play music in the park, get social.
Appearances –
Do judge a book by its cover
We navigate the world by making judgement
People will judge your town by how it looks
Improve things – even small things like planting flowers
Action –
Take action
No one needs a committee to pick up trash
NEA grant program was shared on groups:
NEA Creative Placemaking Grant Program – FY24 Our Town. Description: Our Town Applications are Open! Deadline August 3 Guidelines and instructions for the Our Town grant program are now available online. (copy and paste into your browser: https://www.arts.gov/grants/our-town/program-description)
Through project-based funding, Our Town supports activities that integrate arts, culture, and design into local efforts that strengthen communities. These are cost share/matching grants ranging from $25,000 to $150,000, with funding starting July 1, 2024 for 1–2 year projects.
The application is submitted in two parts; the Part 1 deadline is August 3, 2024. Opportunities to connect with Our Town staff include a webinar on June 15 at 2:00 pm ET and three Q&A sessions on June 27, July 20, and August 10. Registration information is on the Our Town Applicant Resources page. (copy and paste into your browser: https://www.arts.gov/grants/our-town/applicant-resources)
Our Town supports projects that advance local economic, physical, or social outcomes contribute to long-term systems change within communities and bring new attention to or elevate key community assets and opportunities, local histories, and a community's unique civic infrastructure.
We want to honor a wide range of traditions shaped by the lived experience of a community's residents, including music, dance, design, crafts, fashion, cuisine, and oral expression. We have also updated the guidelines to make the partnership requirements more flexible, in order to encourage cross-sector work and engage with stakeholders from throughout the arts ecosystem..