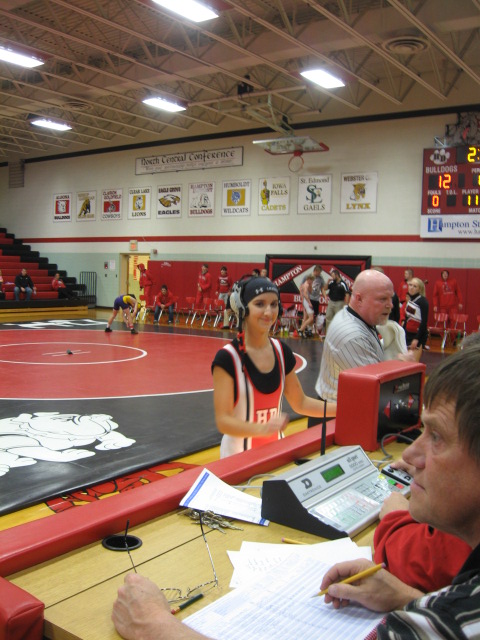 Many years ago, I was the wrestling statistician for my high school wrestling team.  I really liked wrestling.  We had a great team and took many players to state.
This year, some 30 years later, I have a friend who is wrestling. And she's a girl.  15 years old, 103 pounds and full of spunk.  It's her first year and she's already on varsity.
I went to a meet last week and cheered loud and hard for her.  The first match the guy picked her up and spun her around like a whirlygig.  Pinned in less one minute.  The second match she went over one minute before she was pinned.
I spent most of the meet explaining what the point system was, what moves they were making, how they could be stronger,bigger,better — to her mom.
At first her mom didn't like the idea of her wrestling.  She was afraid she'd get hurt.  I think it helped her to have me explain everything that was going on and what was possible.
Illiana may never win a match this year.  Yet she keeps going back, and working harder, and believing in herself.
You see, she can do anything.  How powerful a lesson is that for a young girl?