What kind of distractions surround you?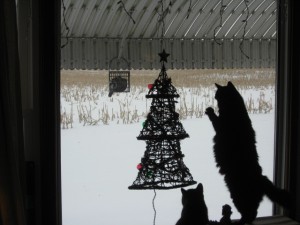 I have been working at a client's office now for several weeks.  They put me in the front with the receptionist.  Everyone that walked through the door stops to talk.  If she's on the phone, I picked up the 2nd line ringing.  Other employees in the building stop by.  Frankly, it was a bit of a madhouse.
I would get started on my project and get distracted with all the traffic.  It would take me several minutes to get back into my project only to get distracted again.
I have moved to  a back office and only listen to my Pandora online radio featuring artists like Tony Bennett.  It's amazing the amount of work I'm completing.
I often work from home.  I've taken a cue from this experience at my client's office.  I don't turn on the television – I put on XM Radio to the Zen channel.  The only distraction then becomes my cat, and that's a welcome distraction.
What can you do to create a more effective working environment?