I once had a boyfriend whose mother was …. a trip.  She hung out with some colorful characters every once and awhile.  They were the bums on the corner, the winos that begged for money.  I asked her why she did that – what could they possibly do for her?  She responded with "Honey, you never know when you might need someone like them.  And they tell great stories, they remember the old days."  It didn't make any sense to me.  Granted I was in my 20's and thought I knew everything.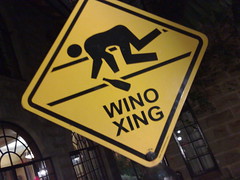 What I didn't know then was that these bums would come to the rescue of my friend.  In the later years of her life she had Alzheimers Disease.  She would often get away from her caretakers.  Those bums on the corner, the winos – she'd go there to hear the stories.  And they would look out for her until someone came to get her.
I had the opportunity to watch a friend work for the Census Bureau.  She conducts the tests to see if you can be on the teams that go door to door to get the census information.  I'll tell you – all kinds of colorful  characters came through her door.  Some were drunk.  Some were crazy looking.  Some were just strange.  I asked her how she stood it.  She said "I don't judge.  You just never know how smart someone is.  Besides, one day that could be me."
I'm taking a look at how I prejudge people based upon my first impression.  I'm learning that you can't judge a book by it's cover, can you?
This post idea came from my friend Bubba – What I Learned From A Colorful Character http://middlezonemusings.com/wilf-colorful-characters/ Belonging to a writing group is a great way to practice your blog posting!