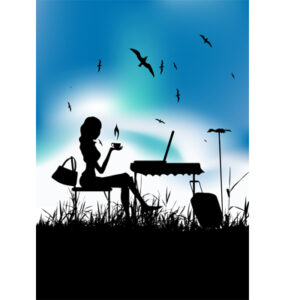 I am blessed to be working with clients who need webpages, facebook accounts, twitter and blogs.  They hire me to take a hard look at their business, and see if they could use social media and what would work best for them.  We create a plan that works within their budget and can be implemented quickly or slowly.
I love my job.  I have the best clients in the world, I swear.
I also love all of the 'backroom' things I need to do in order to be successful.  I'm online an average of 12 hours a day.  I study my craft, I communicate with people who know more than I do, I ask a lot of questions.  I peruse over 100 blogs a day and share just a few things that can make a difference to the people I'm working with.  I learn new ways to do things, so I can do them for my clients.  This is not an average job I have. Thank God.
When I'm not at a client site, or out and about attending events so I can report on them, I'm at home working on my computer(s).  Studying, reading, learning, sharing, communicating.  When I'm not doing that, I'm either with my mom or dad.  Mom and I are traveling the state of Iowa this next year – and I'm writing about it.  Dad is tracking our trips on the map in his room at the nursing home.
Don't be upset when I can't go out to eat or to a movie at the drop of a hat.  I plan those things in my calendar.  I'm working so hard because I choose too.  I love my job!
(image from vectorstock.com)