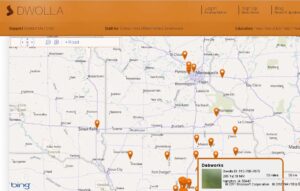 Have you heard all the buzz about Dwolla yet?  Duh-what?  DWOLLA – a very cool way to pay for things, and to receive payment.  Visit www.dwolla.com And you betcha – Debworks is a Dwolla Spot!
The Eagle Has Landed…. and babies are due around April 1.  Live action cam in Decorah, Iowa  http://www.raptorresource.org/falcon_cams/ Strangely addictive.
Tickets now on sale for the 140 Character Conference in Des Moines May 9.  Early bird price of $40 good only through March 31! http://desmoines.140conf.com
The NFL wants to make it illegal to touch a quarterback in the act of throwing.  Hmmm. … bet there'll be some brewhaha over that!
Some USDA data for you:
2.2 million farms in 2010, unchanged from 2009; total land in farms 920 million acres, +100,000 from 2009; avg. farm size 418 acres, unchanged from 2009.  Thanks to www.facebook.com/AgEveryday for that info .