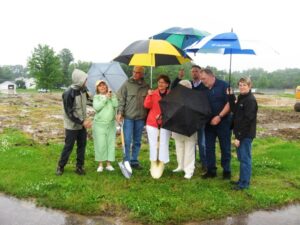 Today we had a ground breaking for the new aquatic center in Hampton Iowa.  The mayor, city manager, co-chairs of the aquatic committee and several city council members showed up.  In the pouring rain and surrounded by muddy ground.
Everyone had umbrellas.  It got me to thinking.  There's a perfect opportunity for branding.
Look at the picture — the black and yellow umbrella signifies University of Iowa.  If you live in this state, you automatically think of University of Iowa when you see black and yellow.  They've done such a phenomenal job branding those colors.
The blue and white is from US Cellular – a local Iowa cell phone company.  They have also marked their umbrellas with their name.
The two black umbrellas are just black umbrellas.  I have no idea what the blue and green umbrella is.  Perhaps – only a blue and green umbrella!
What if I used two colors in my logo and in my design pieces.  What if I put the name Debworks on it.  I could have umbrellas made and hand them out on rainy days.  I could do a lot of things with my colors and my name, couldn't I?
The point of branding is for people to think of you – when they need you.  But first – they have to know you exist.