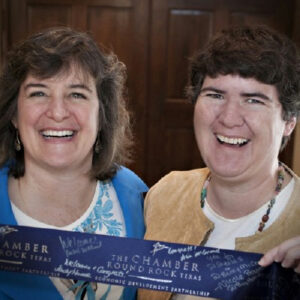 Are you trying to ride the wave known as social media, but are not quite sure how to make it all work?   Do you plan events, coordinate schedules, reach out locally and globally for new customers, get things done?
Becky McCray and Sheila Scarborough have created Tourism Currents – designed specifically for tourism folks.  Visit www.tourismcurrents.com  Sign up for the newsletter.  Look at the details.  Take the class.  I did last year – and it was an eyeopener.  I learned all kinds of tips and tricks for bringing tourists to my town (and my business).
Instead of teaching "how to use  Twitter," Becky and Sheila take it one step further and show how to reach a network of people who can promote your destination. Twitter is just one part of networking through social media. The focus is not on the tools, but on the application of those tools.  One of the biggest roadblocks they hear consistently is "lack of time" to implement such a program for destination marketing. Both women understand this all too well themselves; Becky is an incredibly busy small business owner (with four businesses) and Sheila is a professional writer and speaker, a parent of two and writes for three different blogs.
Developed with busy professionals in mind, the Tourism Currents workshops were born. From understanding the basics of social media to utilizing a small army of supporters, these four online workshops will get the word out and bring visitors to your destination.
They work with tourism people and destination marketers.  It's their job to help you find your way through the maze of social media.  Their focus is on tourism.  But I'm going to tell you a secret. What they teach works for every small business who wants to bring in more customers. There are scores of events, conventions, grand openings and attractions to promote. Planning is essential weeks (or months) before the event and a strategy must be in place to follow up afterwards. Small business owners want  to assure all visitors leave with a positive experience. Visitors love to post photos and videos – you want to make sure they are a positive reflection on your event!
Tourism Currents is the single, most important source of learning available to those businesses who want more tourists in their areas (isn't that all small businesses?).
They have several opportunities to learn.  An introductory workshop, two short courses or the full course.
Introduction Workshop: Social Media for Tourism
This course removes all doubt about social media. See what the buzz is all about!
Three lessons and three videos to help you understand and escalate your tourism efforts
Short Course 1: All the Basics
Master the basics and grab visitors' attention
Tune in…start connecting…expand your reach
Lesson 1: How to Listen
Lesson 2: Building a Home Base
Lesson 3: Intro to Outposts
Short Course 2: The Results Multipliers
Build networks, promote and let the tours begin
Unleash online fans to rave about your tourism destination
Lesson 4: Building your online champions network
Lesson 5: Promoting special events
Lesson 6: New ways to do tours
Full Course: All the Basics and The Results Multipliers
Save money and explore everything the workshops have to offer
Plus receive the introductory course as a "FREE" bonus
So glad you've decided to read this whole article!  Head over to www.tourismcurrents.com and get all the details.  Spend some time and look at the information with the view of how could this help my local business.  Aren't we all destination marketers?  If you answered yes to that – then you'll want to be involved with these workshops and Becky and Sheila.
Sheila Scarborough is a travel writer, certified Navy Master Training Specialist and drag racing fan who is known for turbo-charged enthusiasm, a wicked sense of fun and a love of telling stories on the Web about destinations around the world.

Becky McCray is a small town business owner, with a liquor store and a cattle ranch. She works with tourism clients, small town governments and small businesses on projects and marketing. Her passion is helping small towns reach the world through these tools.

They're not some marketing or PR agency cranking out products for a bunch of different businesses; they are two smart women who are hyper-focused on their members and how they can use tech to tell stories.