I'm a great aunt – again.  Natalie Anna was born yesterday at 11:55 p.m.  6 pounds 9 ounces and 18 inches long.  Little shit huh?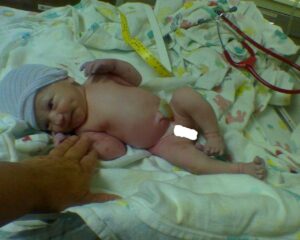 Life is precious.
Have you seen what Amber Naslund is up to?  www.brasstackthinking.com
Looking forward to pie and ice cream on June 27th.  Looking even more forward to my friends (virtual and local) supporting our fundraising. www.oldstonehouse.org for all the info. Shout out to Carol Eldridge who took the ball and ran – she's ordering a gift certificate!
$1 promotion still available through Tuesday.  That's right – only one dollar to become a member of a private shopping club – non-toxic products for your home and health (and yes, more affordable than Wal-Mart).  Email me the best time to call you   deb at debworks dot com
Both of my cats are in the new home.  Bandit came right away, Twin thought he wanted to stay at the farm.  Both of them are very happy here and have a 3rd floor view of the birds.
Life is precious, really.  Have you hugged someone today?  Pick up the phone and call a friend – tell them you love them.  We are only given this moment – let's make the very best of it.