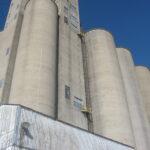 These silos were built by POW's from Germany.
You can find them in Belmond, Iowa.
You know there's a story there somewhere.  Yet, I can't find it online anywhere.
It's a time to look at what stories of yours are not being told to a larger population.
Get these stories in writing, before there's no one left who remembers the stories.