Imagine, if you will, an Iowa rural community Chamber of Commerce without an Ag Committee!  I started my job as Chamber Director in 2013 and one of my first goals was to start a working Ag Committee.  I began in March and it was not the best month to try to bring farmers to the table and have no idea what you want to do!  So I spent a year talking to farmers, ag producers, ag businesses and interested Chamber members about what they wanted.
In March of 2014, when it was still cold here, we called an open meeting at the local Hy-Vee and invited all interested parties to attend the first ever Ag Committee meeting.  Seed guys, big and small farmers, organic and non-organic farmers, school superintendent, the mayor, ag business owners, a lawyer and me all showed up. 20 of us sat around the table and like any group of small town people worked through what it was we wanted to do.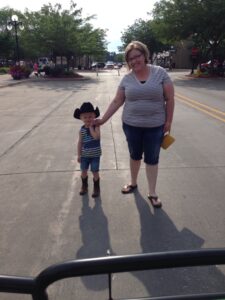 Our first year is being spent on education.  Not just sit in the classroom kind of education, but very hands on education.  Our first event was Ag Into Town – Summer Nights held July 19th.  We closed down the streets downtown, lined the streets with large machinery, sold local burgers cooked by the FFA boys and girls, brought in a live local country band and helped promote the fair that started the next week.  Kids had the opportunity to climb on equipment while mom and dad asked a lot of questions.  The local organic farmer showed where her product ended up in snack bars and milled grain and how you could buy it in the local grocery store.  The local Laotian community came out and made spring rolls with product grown in the community gardens.  Iglesio Del Dios sold tacos that were made with local product.  Kids ran around, parents enjoyed the music and we shared with a community the value of agriculture.
Our next event, before harvest, is even more exciting.   Cyndi Young, from Brownfield Ag News comes into my house every morning at 5:50 am on the radio sharing her commentary about the state of Ag.  She's a big deal around here. Cyndi has traveled extensively throughout the United States and to 15 different countries covering agriculture for Midwestern farmers. Her work has earned her dozens of honors from agriculture groups and associations. A member of the National Association of Farm Broadcasting for 25 years, Cyndi was recognized as Farm Broadcaster of the Year for the nation in 1997, and received the coveted Oscar in Agriculture in 2009.
We're bringing Cyndi Young to Webster City on September 3 to speak to the entire community at 7 pm.  Thanks to a generous sponsor, Peterson Construction, Cyndi will share her thoughts about educating youth today about the importance of agriculture.  She weaves stories of growing up in rural Illinois with current ag news and offers advice of how we all can make a difference. Anyone can attend, and come for free!
The following day is our Chamber Quarterly Coffee and Cyndi will be available for questions from Chamber members after that coffee.