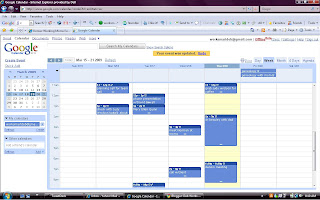 I use Google calendar.  I like it.  It's easy to set up appointments, get reminders and it syncs with my Blackberry.  
For years I vasciliated between hard copy calendar systems and online ones.  I finally just made up my mind to use the benefits of the Blackberry and Google.  
The hardest part?  Making up my mind.
Blackberry Pear
l
.  Small, with internet capabilities I need.  I can check all of my email.  I see Facebook updates.  I take pictures and send them to twitpic.  The keyboard is just like a keyboard, kind of.  If I had to do it over, I would probably choose the full size Blackberry – where the keyboard really is like a keyboard.  
I had to learn how to use it.  
Once again, the hardest part was making up my mind to do it.
I use
www.openoffice.org
 I have a word processing system, a spreadsheet system, a presentation system — that all look like Microsoft Office products.  Except Open Office is free.  
No hard part here.  Decision was easy
.  Why?  I know the Microsoft software and receiving similiar products was a no brainer.  
I am using
www.viddler.com
  (Gary Vaynerchuk recommended it)  I am playing around with my webcam.  Nothing serious yet.  My biggest dilemma?  My internet connection.  I'm in the country and rely on satellite.  It is usually slow – not dial up slow, but intermittent slow.  Doesn't mix well with video uploads.
Hard part?  I haven't made up my mind to work this all out
, yet. 
I use facebook, twitter and blogging
.  There are many options.  Seth Godin said choose 3 or 4 and work them.    
Twitter was probably the hardest to get going.  I had to spend days building a network that was helpful to me.  
Why did I do it?  I saw the value to my life and my business.  
What tools to you use?  What are your hard parts?  What value do they bring? 
You can find me here:
www.twitter.com/debworks
www.debworks.com
www.readhampton.com
www.travelwoman.com 
On facebook, search for Debra During Brown