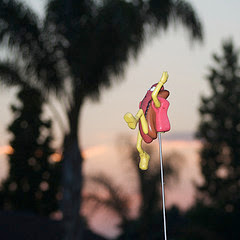 I just read an email that says I need to ask the universe for the things I want.  Sounded good to me.  So I'm asking for the following items.  I'm even telling you why I need them!
A green flip.  As in Flip Video Mino HD
(
www.theflip.com
) I'd like to branch out into video blogging.  I could use the webcam on my Dell Inspiron 1525.  It works great.  But it doesn't work well with a satellite connection in the country, where I live and work.  My only other choice is dial up, and well, just can't do it.  The flip will also make it possible for me to be much more portable, woman on the street interviewing.   If not the Mino HD then the Ultra would be very cool too.
A chai
r
, that rolls, and sits high.  I have long legs.  A regular desk doesn't cut it for me.  I like to sit up high.  I also like my back not to hurt!  T
he Steelcase Think Chair
would work for me.  
Nike Air Pegasus Shoes
.
 I am officially an armchair athelete and affiliated with
www.trainforhumanity.org
 My gymies are 4 years old.  I need new ones, and good ones.  My feet need to be measured but I will probably be a 10 or 11 wide.  
A 4 drawer, rolling filing cabinet
.  I need all my files in one place and the ability to move that cabinet around.  I like to rearrange!   I couldn't find any 4 full drawer cabinets – suggestions? 
That's a short list.  It's a good start though.  What tools do you want? 
The picture is a running hot dog (by
Randy son of Rober
t) – some days I feel like that.  I do like the palm trees in the background though.