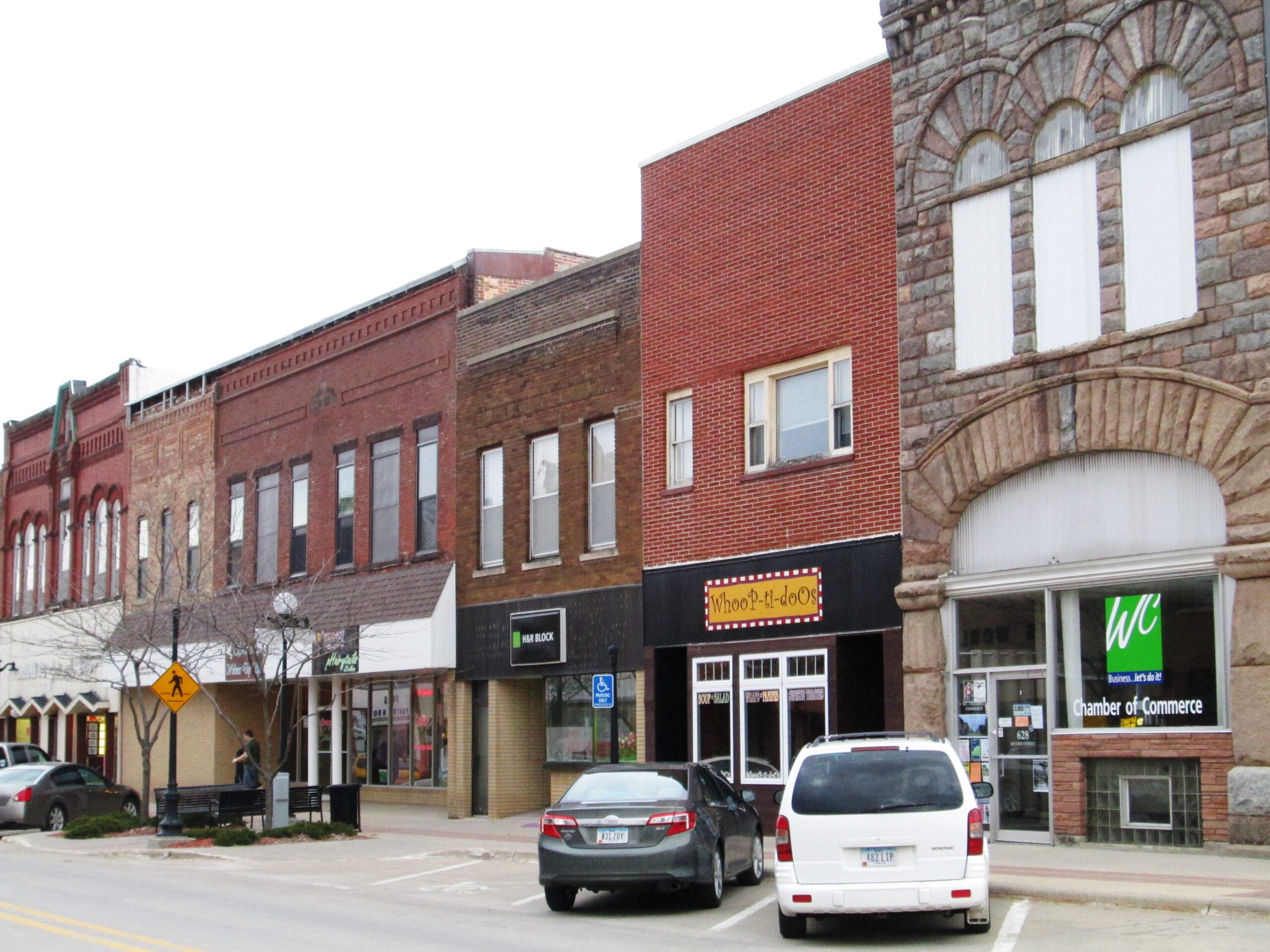 Wednesday, April 24, we hosted The Tour. We chose 11 vacant buildings that were either for sale or rent and showcased them for two hours. We invited everyone to come. Realtors and/or owners were present in order to show the building and give the statistics; size, price, kinds of businesses that would be a good fit. We also had Chamber Champions (volunteers) present to share the stories of past businesses that had been there. They talked about how this building has been a part of the community over the years.
The short tail (immediate results) was nothing short of miraculous. First of all, these vacant buildings were cleaned up and looked great. Second of all, a community came together to share the event and people are now talking about what could be possible in Webster City. Thirdly, one building has a very interested prospective buyer who is moving forward with the process of buying. And other buyer is seriously looking at several options to invest.
Nancy Kayser's husband was a lawyer and really wanted his building to be used by a lawyer. In fact, the building had never been anything but a law office. Mr. Kayser passed away in 2009 leaving the building in his wife's care. Nancy told me "I just couldn't put another for sale sign in a window in Webster City. With the closing of Electrolux there were for sale signs all over town. I just couldn't put another one up." In fact, she was reluctant to be on the tour because she had work to do to clean out the offices. We convinced her to be a part of the tour, that we needed her and her building to round out the tour and Nancy agreed. The first person that came to her location was early. It was a young lawyer who lives here but works out of town. She really would like to practice where she lives. If she had not heard about The Tour, she would not have found Nancy and would not be pursuing the option of buying the building!
The long tail (results appearing down the road) is encouraging as well. We've gotten interest from www.smallbizsurvival.com and they've requested we tell our story. It's a good one and we hope other communities find something of value in it. It also helps to bring notice to Webster City from around the world, and that is always a good thing. Our Tour has been shared on the social media networks, and people are watching and wondering how it went. Kansas, Oklahoma, Missouri, Minnesota, New York, and Nevada contacts have reached out and want to know the results.
Also, by not hiding the fact that we had empty buildings we have let prospective businesses know that we have room for them, and we welcome them. There are several people in our community that are graduating from Iowa Central with entrepreneurial degrees, they will want to stay at home and work in their home town. We've let them know that they have place here.
Finally, people are talking. The conversations over coffee, at ball games, after church and with friends are once again filled with hope. They are dreaming about possibilities in Webster City. We know how to make dreams reality and our long tail is a strong, prosperous Webster City.
Small towns like ours know that we are survivors and where there is a will, there is a way.
You might also like to read these articles:  empty buildings and The Tour.
Our thanks to Schlofeldt Engineering for designing the maps and making them available to everyone; HyVee for snacks after the event, Stacy Wearda, Tyler Abens, Sandy VanHauen -realtors; Jeanne Hill, Rudy Knight, Vern Radcliff, JoAnn Robb, David Toyer, Loween Getter, Pat Powers, Art Downard, Ron Gilbert – Champions; Mathew Byrne, Connie Gilbert, Randy Chalfant, Al Reynolds, Jason Van Sickle, Nancy Kayser, Steve Kehoe – building owners.  It took a community to make it possible and we thank everyone who attended and all of those still talking about it! 
ADDENDUM FROM 10-25-15