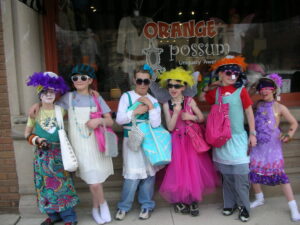 Let's talk about social media and what it can do for a small business.
One day about two months ago I was on twitter and listening to what other businesses were doing.  I found out that Intuit was awarding grants to small businesses.  I began following @lovealocalbusiness right away.
That led me to the site www.lovealocalbusiness.com The concept is simple, nominate a local business, get your friends to vote and leave comments, and be entered to win a grant.
I've done some shopping at Orange Possum, here in Hampton Iowa.  Kelsey is a young 20 something resident who elected to stay home and start a business.  She was raised in retail (her mom owns The Wood Cellar) and thought she could do a good job at it.  Her store has clothing, sunglasses, gifts, knick knacks and some pretty cool things.  I loved that story – young resident does NOT move out!  I nominated Kelsey.
Then I headed over to Facebook and shared the link.  I asked people to vote for her.  The petard was hoisted.  Kelsey spread the word in her group of friends and customers.  We had some fun with it.
Then I forgot about it for a month.  Yesterday I got a facebook message from Kelsey. "I WON $5000 from Intuit – all thanks to you!"
That's right – Orange Possum is one of three monthly winners of $5000.  And it's really because Kelsey is a smart businesswoman.  She loves the community she was raised in and wants to stay here.
Many many thanks to Intuit for making this promotion possible.  In these days of slow economic times, you've made it possible for another small business to stick around.
And that, my friends, is the power of the social media.
The Intuit Small Business Blog
the picture?  Kelsey hosts birthday parties.  This young group of 11 year old boys (yes) had a rock star day.  It involved a trip to Orange Possum to dress up.