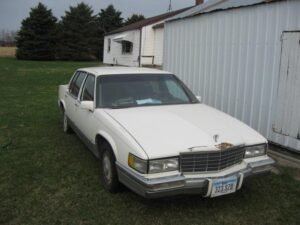 I've got a car to sell. I could run a short ad in the local paper and hope someone gets past the age of the car and calls me.  Or I could list it on Craiglist and make flyers and put around town.  I know I need to tell a story and give this car some character.  I need to have you want to see her!  Here's my ad:
What a great car! Baby's been good to me. Great interior (a ruby red leather), 202,000 miles and still going strong, new heater core, and a great get around and get some things done car. 4 doors, white, weighs 3,600 pounds.
I bought it from a man I go to church with who bought her at an auction and it was prior salvage. He just happened to know the previous owner. My friend fixed it up and his wife would still be driving it if her husband hadn't bought her a new car. The title is clear (this car is all paid for!).
I hit a deer two years ago, dang thing ran right in front of me. Replaced the radiator, grill and bent the hood back into shape. Baby just keeps on going, she's not going to be stopped by a deer!
Does she use gas? She's a Cadillac, and yes she drinks a little. Gets between 15 and 20 miles to the gallon. She'll tell you when she needs more – the dashboard reading shows how many gallons you've used and how many you have left.
Roomy trunk.  I've helped people move, filled it with boxes of knives, it's had my mom and dad's walkers in it countless times.  Baby loves to haul things around.
Raised out in the country all of her life, yet drives well in town too.
Asking $1000 – but will certainly be open to having a conversation! Call 641-458-1114 in the evening and make an appointment to see her.   I'm looking for a good home for my Baby.
Now – don't you want to see my Baby?  Where else in your business could you be telling a story – instead of just giving the facts?