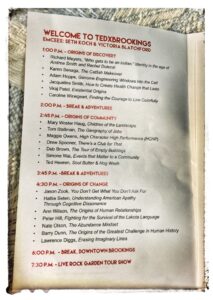 Today I speak at TEDx Brookings.  This year we are exploring the origins of ideas, community and movements.  True change begins with a small number of people who care.
It started several months ago when I was invited to speak about the Tour of Empty Buildings at this event.  I have 8 minutes, a slide deck and my excitement to share this story.  TED folks are pretty serious about presenting a well prepared event, and this is no different.  We had a speech coach, a slide deck coach, a handler and lots of volunteers to make this a reality.
TEDx is about sharing grand visions and ideas worth spreading.  This week I've meet speakers who are passionate about things like saving the Lakota language, creating health change that lasts, living colorfully, airBNB for farm equipment and saving communities.  And you'll get to hear their presentations as well – these events are recorded and shared free on the internet.
This has been a dream of mine, and today it comes true.