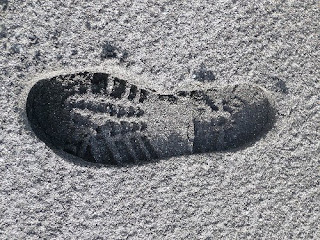 Dad's foot surgery went very well. The $750 medicine worked, and he has not had any strokes. Bleeding was minimal. We are waiting on all of the local anesthetic to wear off to determine how his walking will be affected. The doctor says his foot should feel much better – the ingrown toenail was really bad and even with all the cutting, his foot will feel better. I watched the surgery, Mom sat in the corner and did NOT watch and Dad just laid on the table and held my hand.
I've been on the phone all morning trying to borrow money from the banks where my folks have banked all their adult lives. I'm told they need collateral. What with the economy the way it is, the bank boards are requiring collateral on every loan — even one as small as $2,000. All of their assets are tied up, and there is no collateral. Except for Dad's 1975 4020 tractor. We're hoping they will take that. I kinda doubt it though.
My brother and I will do what we have to. We were both laid off at the end of 2008 and have started our own businesses. It's a hustle out here! I can't stand the thought that I may have been able to do something to extend my dad's life a little longer. I do have calls into pharmaceutical companies, family members and am actively searching for available funds.
There is a widget on this blog in the upper right hand corner, if you feel so inclined to donate. It's certainly not required, and we greatly appreciate those that have. It brings me to tears to have to ask – and to accept it.
I'll post next week on what the pharmaceutical companies have told us. Thank you for all the prayers and good wishes for dad's surgery – they worked!
Left shoe print taken in Iceland on black sand by ezioman – found at
flickr.com
It's kinda how we feel, on our left foot somewhere in Iceland