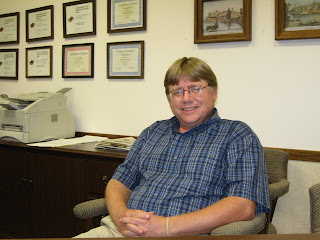 Brad Hicks is the Publisher of the Hampton Chronicle, one of the papers falls under the Mid America Publishing banner I love small town living! I got the opportunity to interview Brad for our paper and am very happy to report he is a big supporter of Hampton! Enjoy the read.
Where are you from?
I grew up in Jefferson, which is by Ames.
What brought you to Hampton? My wife is from Mason City and her dad got cancer. She wanted to be closer to her family so I started looking for newspaper jobs near Mason City. We've been here 17 years and raised our two boys here. Joshua will be 19 and is going off to college. A.J. Is 15 and in school here.
Why did you decide to follow journalism? I was a nosy, big mouthed kid and wanted to know everything first. Then I wanted to tell everyone what I knew! I've mostly grown out of that.
I went to college at Iowa State. Majored in journalism in 1984 and spent four years in Vinton as sports and news editor – a daily paper owned by Midamerica. I then went to Mount Pleasant for three years as the news editor. We spent one year in Faribault, MN (me as managing editor) and then I went hunting. Mid America was looking for me (they just didn't know it, but that's how it worked out).
Do you still write a lot? Very little, I wrote my column and occasionally the editorial for the Hampton paper. I don't miss the writing so much, but I do miss not having the background information I had when I was a reporter. For me its fun to write when I know things and can share them.
I am starting to notice your news stories a little more. Are you doing something different? The reality of small town newspapers is the content ebbs and flows with the writers. That's where the editing comes in – finding the right flow. We've always been a local newspaper. We have two full time news writers, one who does a little sports too and some sports stringers.
I've always tried to make sure that our newspaper compared to news of similar size town was a better editorial product. Most of comparable sizes are 12 or 14 pages. Ours is at least 16 pages, lots of news and we try and do stories.
How many papers does Mid America publish? There are 18 small town papers in our group. The circulation for all the papers is 18,000 – which is just a little more than the Globe Gazette. All the printing is done here. We've 37 full time employees and 46 part time employees. We are considered a mid sized publishing company.
I realize we think alike in a couple of ways. One of them is shopping local.
One of the things people don't realize is how much of an impact they can have on a local community if they shop local. You can get about 90% of what you need here. Need a tool? Why are you driving to Fleet and Farm, when we have Hanks Hardware or Pamida? Try to go to the big box stores and get personalized help. If they don't have a product – they don't tell you where you can buy it. They certainly don't call the other store to make sure they do have it! I think our local people who own businesses get it – they work very hard for your business.
I also think people underestimate the impact if they just get involved in things. A lot of people like to sit and complain about things. Its safe to say there's a lot of taking for granted of what we have – and there is a self esteem problem in Hampton. We tend to think what we have is not of interest to anyone. That is simply not true!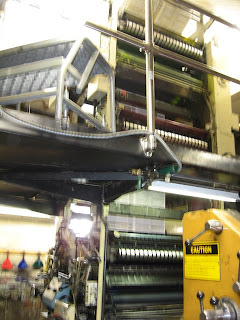 Brad took me on a tour of the company. They have 4 press units capable of producing 4 pages each, one color.
They are 35-40 years old. They have a 4 high – which is 4 presses stacked. They run their color out of those. 4 pages of full color. It was installed in 2005. 6 weeks ago they installed a brand new plate making machine. In the old days they used to cut out type, laid it on a page, took a pic, got a negative and used it to make an aluminum plate. The plate was hung on the press and printed.
Brad describes the process better than I can!
Off set printing is easier to explain by saying that oil and water don't mix. So we mix them and the oil sticks to the paper, the water doesn't – and there you have it. Its just magic! Its the one thing in the newspaper business that I can't do – I can do everything else.
Now we lay out the image on the computer, electronically transmitted to the platemaker and the image of the page is generated to the plate and the plate is hung on the press – just like it has for centuries. Whats cool about our new machine is that it is green. There is no chemical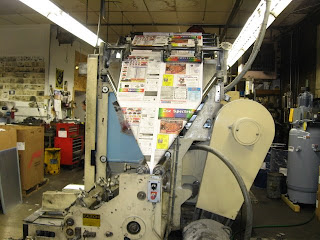 involvement in the exposure, no water use in the exposure process, no discharges and the plates are like photo paper so when you put it on the press the water runs over and it is all recycled.
We are the 2nd newspaper plant in Iowa to use this technology. There are probably less than 25 print facilities using this technology. Its brand new. Its still a work in progress.
What difference has this made for the reader? It requires less ink and people who pay close attention will probably notice there is a little better detail in photos and graphics.
Compared to where we were 7 years ago we are light years ahead incapacity and quality.

What about the rumors that the newspaper business is dead? People are so quick to say the newspaper business is dying, but we have more people come in our door saying they want more printing than we ever have. Our circulation erosion is miniscule and the number one reason we lose subscribers is death. We are a different creature than the great big dailies. Our little papers we have are very close to the readers. Small town newspaper fill an important niche and they will be around as long as there is a business community around that uses them for advertising.
If you stop shopping local, the small town shops will close up – and your newspapers will disappear because of lack of advertising.