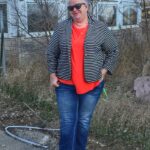 Spring, thank God.  March is here, in fact – tomorrow is the first day of spring.  Winter is hard for me and when spring arrives I feel like I can breath again.
So the good news is the bright clothes can come out.  Yes, I know it's 39 degrees out today.  Who cares?  Next week or the week after it will be in the 50's and 60's and that's doable.  Right now we can wear lighter jackets and not freeze to death.
This picture was taken today and those are size 20 jeans.  They fit beautifully.  I was able to walk today and not get out of breath.  My feet didn't hurt.  I went shopping for new brassieres, because the old ones don't fit anymore.  These are all good things – I'm making some strides.
Spring – welcome!