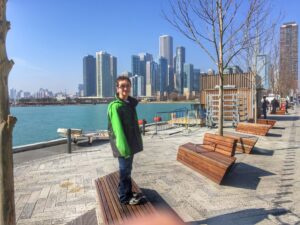 I lived in Chicago 30 years and go back to visit family and friends a couple of times a year.  This weekend is my nieces birthday and we try to come out every spring.  This year my 11 year old great nephew asked if he could come along.  Steven has traveled with me several places, but never Chicago.  Sarah and I both thought it would be a grand adventure and we said yes!
The Sunday update is about my journey to wellness and how I incorporate that journey into every day living.  This weekend is a great example of just how to do that.  We arrived in Skokie where we are staying around 7 pm on Friday after a day of driving.  We don't just drive straight through.  There's much to be seen along the way – so of course we stopped and smelled the roses!  Or in our case, smelled the Mongolian food at Hu Hot in Cedar Falls.  Young Steven would eat burgers and fries if given the choice and this trip allowed none of that.  The choices were healthier at Hu Hot as well.
The next morning we jumped in the car and drove into Chicago to show Steve the tall buildings.  We did drive around and pointed out things, but let me ask you – how much fun is that?  Lou Mitchell's was the breakfast spot we wanted to eat at, but … the line was around the block and frankly, as much as I love Lou Mitchell's, I was not in the mood to stand in line for breakfast.  Instead we went over to Navy Pier and enjoyed a nice long walk and took pictures until Harry Carey's opened for lunch.  Again, our choices could've been staple burgers or sandwiches, but we chose healthier appetizers and had a wonderful spread of spinach/artichoke dip, hummus, ravioli's, soft pretzels with Jack Daniels dip (ok, maybe not so healthy), and Chicago root beer.
The afternoon was spent getting reiki treatment from Bill Winebrenner and gem light treatment too – all three of us received this relaxing service.  Sarah and Steven got to go to the Peggy Notebart Museum where the butterflies flew around them in a big room – imagine that!  I walked to a coffee shop with Erin and Susan and we caught up on each other's lives and laughed a lot.  The best exercise in the world – laughing.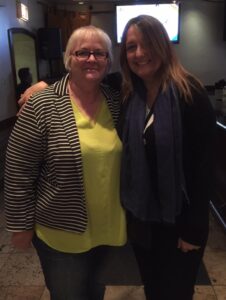 We closed out the evening with a greek dinner at 9 Muses with my fabulous friends Andrea and Van and the lovely Tina (Andrea's mom).  I met Andrea one day when I sold her luggage for a trip to Greece.  That same evening her husband Van came over to the coffee shop and drew a map of Antiparos Greece and they shared why I should go, when and where to stay.  That was in 1999 and we've been friends since.  It also started my love affair with Greece.  Dinner was marvelous – we just ordered a little of everything and we all shared.  Grilled octopus, saganaki, souvlaki, lamp chops, tzatziki, greek salad, baklava cheesecake, greek yogurt, and several bottles of St. George wine — over 3 hours, conversation, laughter and lots of joy.
The theme this weekend was to make good food choices, walk more, show Steven more of the real Chicago that I know and introduce him to a few people who live life big.  I didn't come close to seeing everyone I wanted to see – Cruz, Lynn, Catherine for starters – that just means I have to come back! This is how I choose to live my life – making good choices, traveling when I can, spending time with my family and dear friends, having real conversations and finding ways to make a difference.