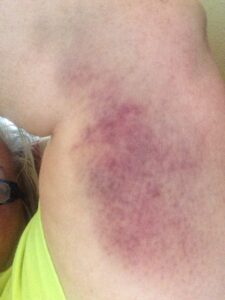 What a week!  We had our Chamber Annual Dinner on Wednesday night.  I stopped by the venue in the afternoon and didn't see the 3 inch step at the entrance.  So with both arms full, I simply walked in — and flew across the room and fell on my left arm and right knee.  The arm took the brunt of the fall.
I couldn't get up.  In fact, I was pretty sure I broke it.  Swelling immediately, major pain (so much so it made feel nauseous), and massive embarrassment.  I took an ambulance ride to the ER.  They doped me up, took xrays, found it not broken and sent me home in a sling.
Yes, I gave my presentation that evening at the dinner.  Don't ask me how.  I didn't stay long afterwards.  Because I was still in pain and not able to stay.  I went to the dr on Friday for a follow up.  They didn't see any broken bones on the xray.  She believes I bruised the bone badly, and probably tore a tendon.  The swelling and pain will require me to go back next Thursday for another follow up.  The great news is that I didn't break anything.  In fact, the doctors couldn't believe I didn't break a bone.  Great vitamins!  That's my secret – and I'm thankful for Melaleuca vitamins.
I can tell you today that it is still ridiculously sore, I'm unable to use the arm.  I'm also left handed, so this is all a challenge!
No exercise involving my left arm for the next week — or several.  Which is the perfect timing to begin removing sugar from my diet.  I need to grocery shop tomorrow (if I can get out of my driveway) and I'll be storing up on veggies, meat and protein.  You might not want to visit me for a couple of days.  I hear the sugar withdrawal is not particularly pleasant!