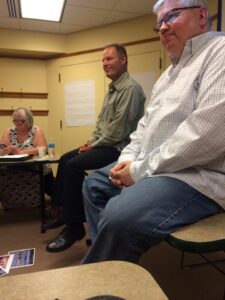 It was a weekend last week of Misfits.  Then crazy two days at work.  Then two days of Ag Urban Initiative.  Through it all I worked out two days.
However, I picked up an accountability partner.  Little does he know, I take that roll seriously!  What is an accountability partner?  We will share our schedule for workouts and goals for weight loss.  Then a quick text that says "how was that workout?" or "did you skip the ice cream?" or something similiar.  We'll touch bases over the phone a couple of times a month.  It's someone I'll be painfully truthful with in conversation.  No lies,  no white lies, no deception.  Just honesty, encouragement and celebration. (see the guy on the right? that's my partner)
This whole business of getting in shape really sucks.  I'm at that stage where I don't like eating healthy, and I can't find (haven't had time to look) for simple recipes that are good for me.  I hate exercise (doesn't stop me though).  I hate looking at myself in pictures.  I can't trust what I see.  Some are ok, some are awful pictures.  All I want to do is whine.  Tell me this will pass.  Because I'm tired of it.  Tired of the whining, the griping, the fatness of it all.
I was in a class where the Dr. talked about the stages of a midlife crisis. (see the guy in the green? him.  Dr. Lee DeRemer)  The first two stages were unbearable – where you saw where you'd been, what agony you were in, realized this life was short.  The next stage was acceptance and trying to figure out how to move forward.  The last two stages were acceptance and ways to move into the blissful stage of life. (Lee, I apologize for butchering that.)  So I'm in the second unbearable stage – in agony.  I awful close to the third stage and know a few things about the last stages.  Here's the thing I'm scared about – what if this doesn't work?  What if I stay fat and unhealthy?  What if I can't do it?  What if I can't find what I need to find to move forward?
Something to think about for sure.