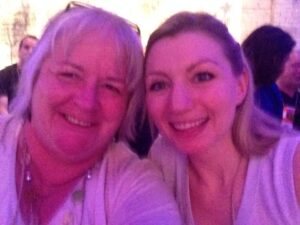 You gotta have friends, you gotta have friends.  Well, they sure do help on this journey!
Todd Randall Jordan makes me nuts.  Every day he goes to the gym.  Lifts weights, kettle ball, treadmill, standing on one foot — he shares on facebook that he works out.  Yesterday he said he didn't make it to the gym but he worked out in his office.  In his office for God's sake!  I was home cleaning house, taking a day off of working out.  But I figured if Todd could workout in his office, I could sneak in some left and right leg lifts, scissor kicks and bridges.  And I did.
Then there's Brogan.  Sure he's a superstar and he hooked up with Jacq Carly and he's not been the same.  He too goes to the gym, lifts weights and drinks shakes.  He's even wrote a book about.  Just Start Here.  Now he joined a network marketing company (not mine, too bad for him!) and is using their shakes.
The lovely Julia Roy (lover of neuroscience) spent time with me in Fargo talking about what her and Clay Hebert have been doing.  For the past year they've delved into one thing for a month or two to really test it out, and have pulled out the things that are working (paelo, yoga, etc.).  It's working for her, she looks great and feels great.
I go to the gym 5 days a week and I see Dick every day.  He's got a bad hip.  But he comes every day.  There are two young men who work out lifting weights.  They always speak and say goodbye.  Randy, my trainer, believes in me and encourages me to keep moving.  And Dick and the boys do too – they don't say it, but they smile and acknowledge me as 'one of them'.  The ladies in our bootcamp show up, we groan together, and we keep coming back.  Are these folks my friends?  Maybe, in a way.  But for sure they are part of my tribe!
Some of these people I first met online, in social media groups.  We've eventually met in real life and are friends.  There are people out there who want to help you, to encourage you, to be your friends.  They belong to your tribe.  But you have to participate too – and look for them!  Friendship is a two way street.