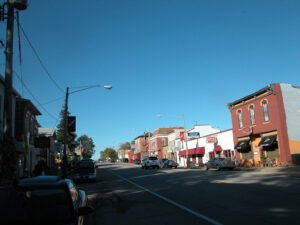 Why am I headed to LeClaire, Iowa?  
1. I'm a chamber director.  It's always good to take a look at other communities that are 'doing it right'.  It's even better to spend a couple of days there, talk to some shop owners, get a good feel for the community.  In this day of rural communities decreasing in size, LeClaire has beaten the odds.  They actually increased 32% from 2000 to 2010.  What are they doing to bring people there?  American Pickers is located there – Antique Archaeology is there company.  I doubt that one company could make that big of a difference – but I intend to find out.L eClaire was recently recognized by www.BudgetTravel.com  as being one of "America's Coolest Small Towns 2013. They have home decor, gift and antique shops.  They've also got the Mississippi River Distilling Company and the Wide River Winery Tasting Room.  Is a weekend enough time?
2. I'm staying at the Guest House of Grasshoppers Gift Shop.  It sleeps six upstairs, has a huge downstairs area and is in an old house.  Whenever possible, I try to stay somewhere unique to the community.  I'm sure this fits the bill.  It's also crazy affordable.  Check out these pictures!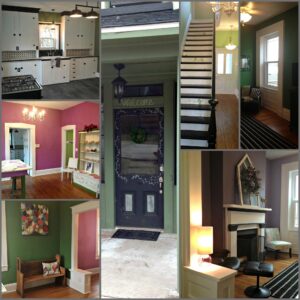 3. VisitLeClaire.com suggested these cool things to do: 
Area attractions to interest visitors include the historic River Pilot Homes and the Buffalo Bill Museum, honoring LeClaire's most famous native son, William F. "Buffalo Bill" Cody, as well as local history and the Lone Star Steamer at the River Pilot's Pier on the LeClaire Levee that also includes a Boat Launch, parking, picnic areas and a Veteran's Memorial.   And finally, there is a self guided tour of the River Pilot Homes.  Oh the history!
4. My friend Erin Criss from Chicago is meeting me there.  And why not?  A great little escape for her, we get to hang out and get some work done together and enjoy LeClaire at the same time.