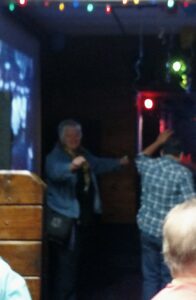 I just got home from two days on the road with my friend Melanie.  We traveled, via a wine trail, to Savanna, Illinois to help my friend Chris celebrate his 40th birthday.  Two full days of conversation, laughter, hooting and hollering and dancing.  Oh yes, I did dance at the birthday party to Madonna, Michael Jackson, Rick Springfield, Uptown Funk, and then it morphed into dance rap (strong dance beat, and rap words).  Saturday night dancing took me waaayyy back – to the 80's where we danced every weekend, with wild abandon.  I used to love dancing!
Then I got old.  My knees hurt, my butt is big and I have plenty of excuses why I shouldn't be dancing.  Saturday I through those excuses out the window and got up and danced.  I did what I could, and I had a MARVELOUS time and danced for hours!  Okay, I did sit down in between some songs – and I didn't hop around a lot – but I DANCED.  The thought came to me, why don't I just dance to one song every day?  I can do that!  Surely ….
We have to get our exercise where we can.
The War Room
Friday night we went to the WebsterTheater to see the War Room.  I knew it was a Christian movie and I expected to be entertained, it sounded good.
As I watched the movie I was very uncomfortable.  I saw myself in some of the circumstances in this movie including being self righteous, not loving my enemies, not asking for forgiveness let alone forgiving myself.  I pondered this movie all weekend, and Mel and I discussed it.  Where could I go to be centered, ask for forgiveness, prayer for those who hate and love me?  Could I even do it?  Just talking about it here is difficult – in our family we don't discuss God outside of our church family.  I do believe – of that I am sure.  But this movie encourages me to take a look at how I act, who I am and how am I taking care of myself.  Some call what they suggest meditation – to be alone and talking to God in an intimate relationship, depending on Him, trusting him, letting go.  Isn't that like mediation? Being alone and listening – and probing – and asking – and trusting.
I encourage you to watch the War Room.  I listened to it with a single woman's ears even though it was written about a married couple.  I think at the least you'll want to learn how to be strong in your believes.