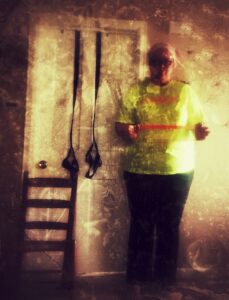 I travel enough that I have had to figure out how to workout on the road easily.  I know myself well enough to know that I won't go downstairs to a gym in the hotel consistently.  When the opportunity came to try out the Live Infinitely bands I jumped at the chance.  (I was given these bands to try and asked to write a blog post about them.)
They come in a carry case with five different bands: light, medium, heavy, xheavy, and xxheavy.  They range in resistance from 3 to 7 pounds up to 22-35 pounds.  They are color coordinated so you can easily remember which color to use, right now I'm using orange which is the medium.  When I got the package there was just one sheet of paper with them and I thought 'what the heck, no booklet to tell me what to do?'
However, they did give me the link to the website where I could choose to watch videos online, or download a poster that I could print out if  I wanted to.  I ended up watching the videos and referring back to the posters because I'd rather read how to do something than have to keep watching how to do something.
My review is pretty simple.  I like them.  They are easy to use, the instructions are simple.  I can get a quick workout in, or expand it to a longer workout.  I've tried to be that person who goes to the gym, and I just am not that girl.  I have found out that I will work out in ten minute spurts throughout the day though.  I can turn on my chromecast and watch a TedX and learn while I burn!
I shot a video showcasing just a couple of exercises you can do using the bands.  You'll see I'm wearing a bandana.  I always do when I work out – my head sweats!  I'm also wearing clothing that fits.  No baggy clothes, and that's kinda scary for me.  However, it keeps me honest and and showcases what is improving and what needs more work.  It's a path I'm on people, and the journey is the fun part, isn't it?
If you want to order these products, you can order them by clicking this link. 
just a reminder: I was given this product to try and review