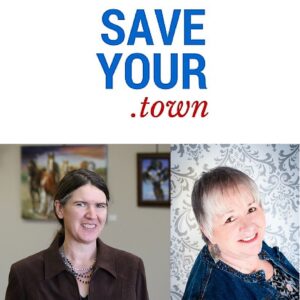 Just about every Sunday Becky McCray and I discuss five stories about small towns on the platform Blab.  Here are the stories with comments and the blab video is below.
Oh boy – this is just a fun idea that worked in Canada, What a hoot!   I love the little paper and his persistence.
 http://calgaryherald.com/life/swerve/the-nanton-experiment-starting-a-mini-newspaper-in-a-small-town-is-a-big-idea
I saw this and thought it was a great sign, funny – and got the attention of drivers.  Little did I know it would draw attention to St. Ansgar in Northern Iowa.  You can bet there will be more deer hunters this fall!  Great opportunity for the businesses. The flip side is there were many people upset about making fun of suicide, and of course I don't condone that.
http://www.barstoolsports.com/iowa/small-iowa-town-puts-up-a-suicidal-deer-sign-and-people-are-not-amused/
Opportunities sometimes come out of personal problems.  It goes to show you, there are small towns all over the world finding ways to turn problems into opportunities – and we can learn from each other.  This guy also shows that people really do want to see how others live, even in small towns.
http://www.thestar.com.my/metro/community/2016/03/21/opportunities-in-a-small-town-growth-in-ecotourism-helps-local-realise-dream-to-open-homestay/
Small towns are not dying in Minnesota!
http://blogs.mprnews.org/newscut/2016/03/small-town-minnesota-isnt-dying/  and its not seasonal either
Let's hear it for George-Anne local paper and word of mouth. The community rallied around this woman, and also encouraged students and others in town to do the same.
http://www.thegeorgeanne.com/features/article_12c514c1-65b8-522b-905c-6234ea1819cb.html
Thanks for watching and being part of www.saveyour.town