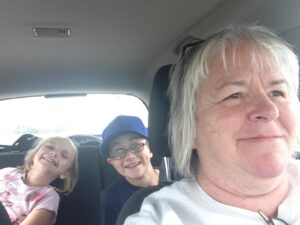 Hello my lovelies!  The past two weeks I went to the gym 5 days a week.  This week I only went three times.  I was off work Monday through Wednesday and was driving two of those days and playing with my great niece the other day.  Sounds like an excuse, doesn't it?
That's because it is.  I could have found other ways to work out those three days.  I chose not to.  Here's the thing — I actually CHOSE not to.  I made the conscious decision to not work out those days.  I'm still recovering from a broken toe and the time off has actually made it feel better.  I also chose to be with Steven and Hailey and really BE with them.  They are 9 and 7 and incredibly fun to hang out with.  We talked a lot.  We read books.  We played.
And on Thursday, I went back to the gym.  Again, I chose to.  Went Friday and Saturday too.  Because  I made the commitment to myself and to better health for me.  I deserve this.  #IDeserveThis 
That three day break won't kill me.  What will is not going back.  What will is stretching three days into three weeks.  What will is not making smart choices.  
And … I got my fitness evaluation.  Core is doing great, upper body is hanging in there, but could use more work.  Inches are down and I dropped 12 pounds.  In one month.  That's what good vitamins, exercise, diet and commitment will do for you.
I've upped my supplements and added more workout fuel – and use Melaleuca products.  Next week I'll share a bit about what's working for me and why good vitamins make a world of difference.