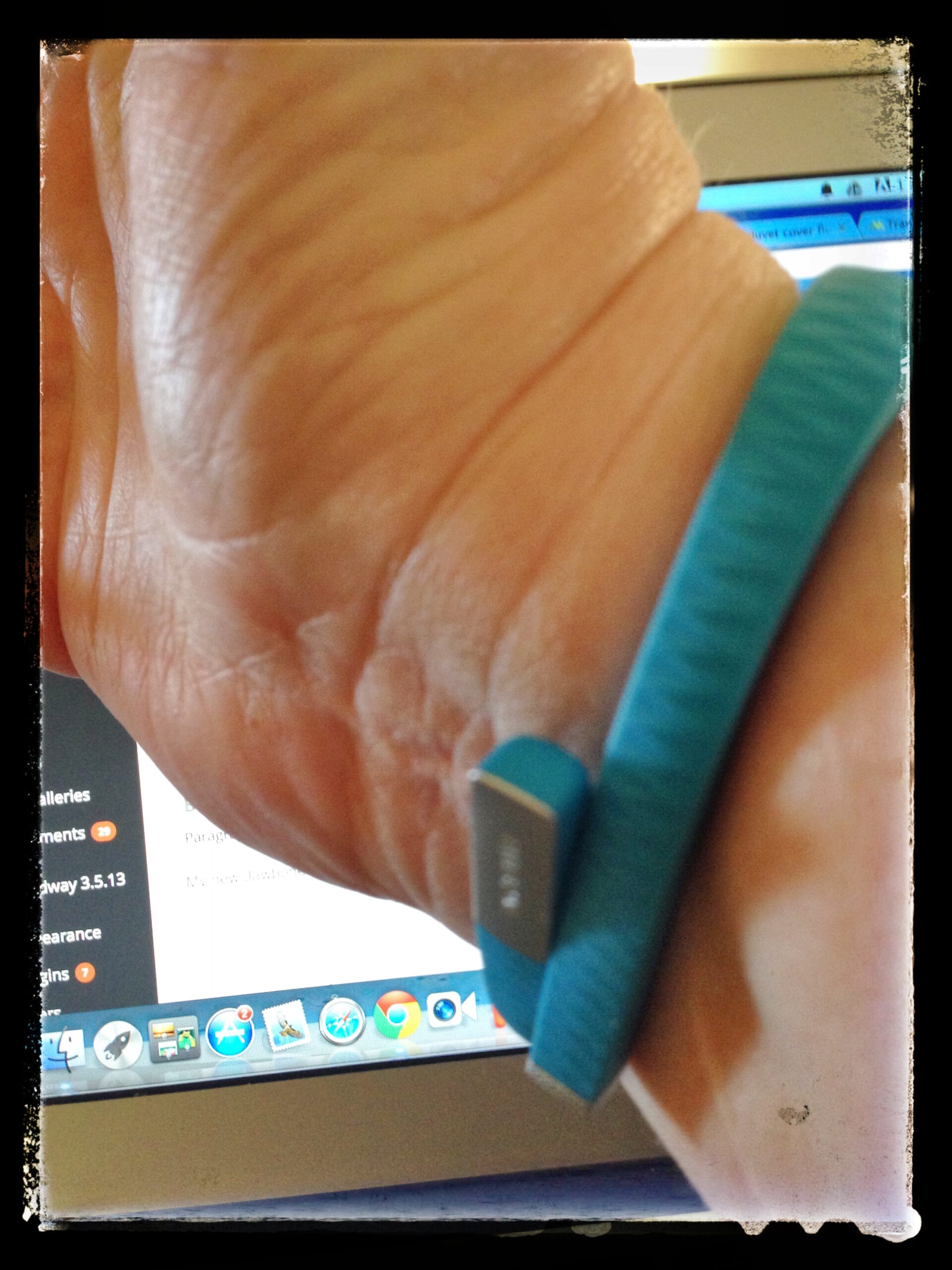 My new Jawbone Up is blue.  I ordered it on Groupon for $49 (more than 1/2 off).  It tracks my steps, my sleep and syncs with My Fitness Pal.  I also have it set to buzz every 15 minutes during the day to remind me to get up and walk around and not sit in my chair for hours.  I chose 15 minutes because I know I will ignore it twice and at 45 minutes say to myself "ok, nitwit, get up and walk!"  I chose blue because it's my favorite color.  I could have gotten a black one and been sensible.  But every so often you have to say 'What the hell' and get what you want.  I've worn it 4 days now.  And 4 four days I've also tracked what I'm eating in My Fitness Pal.
Turns out, I eat better when  I write down what I'm eating.  Who knew? (sarcasm friends, sarcasm)
I'm also blue today, as in sad.  Blogger friend Amy Hild was killed in a car accident this week after leaving Social Media Breakfast in Mason City.  Amy was 27 years old, always smiling, in love and getting married in May and a fabulous graphic designer.  She was part of the brain gain — she stayed in her community and wanted to make North Iowa even better.  Today is her visitation and there are many of us around the state missing Amy today.
I've added a counterforce brace to wear just below my elbow on my forearm.  My range of motion is much better, but I can't straighten my arm totally yet, reach behind my back to scratch it or lift anything over 5 pounds.  I've been doing some exercises (Dr. Google) but am going to call the dr. this week and ask for physical therapy.  I've also got the same kind of soreness in the other elbow, not as bad thought.  I think it's time for some physical therapy.
I've partnered up with another friend to maintain accountability.  We have agreed to hit 2,000 steps a day.  You may laugh, but it's winter here and there is no walking outdoors.  I won't take the risk of falling, and it's a definite possibility to fall on the ice/snow/slush.  We check in each Monday with each other.  Once we hit the 2,000 steps faithfully, we will increase them.
I've also joined a private facebook group that helps with accountability and also taking a really close look at what causes me to eat out of control.  It's a pretty smart group of people (men and women) and the insights are pretty fabulous already.
Have I mentioned I hate winter?  That makes me blue too.  I'm ready for spring now.  I'm ready to be walking on the trail.  Soaking up the vitamin D.