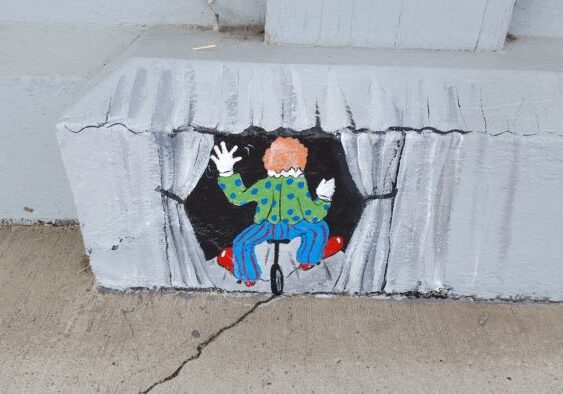 The top conclusion of the survey was that rural people were twice as likely to say they were optimistic about their communities' future as negative.
Times they are a'changin. The old ways are no longer working, and new ways are being explored. People are realizing a community is made up of many people, and they all can be involved.
The survey also uncovered big disconnects between what rural people want and what services and assistance are commonly offered to them.
Rural businesses aren't looking for business plan assistance or interested in pitch competitions.
Jobs were the least mentioned challenge in the survey.
Stiff competitionfrom online businesses, and marketing ranked the highest as challenges to rural small businesses.
Read the other pre-conception changing results and the full report at https://saveyour.town/survey-of-rural-challenges-2023-results/.
Successful Economic Development involves the arts
Economic development is more than just searching for a factory to come to your small town. That was the old way of doing things. Today, progressive, and successful communities are creating economic opportunities that appeal to a wider range of people. We know that artists and makers are another valuable path of revenue. When visitors come to your town, they look for the things to do, the opportunities to be a part of your town – even if just for a weekend. Tourism involves the arts.
This is the 5th time the Survey of Rural Challenges has been conducted by SaveYour.Town and https://smallbizsurvival.com/. The arts have been mentioned all 5 times. Let's take a look at some of the challenges and successes rural people have shared.
Both Challenges and Successes
Survey respondents shared what the challenges, and successes, were on the broad topic of art. Interestingly enough, there were several examples of both success and challenges in the same response!
Challenge and Success:
We're a food desert with a Dollar General, the market left 15 years ago after the one industry left. We have to drive 32 miles or 58 miles to buy fresh fruit/produce. I'm trying to create my crowd/tribe to start Urban Gardening in rural deep south with diversity. The old people want it to be what it was, (omg), the young people don't want to learn to fish, they pick up free food monthly, and are comfortable living on processed food and snacks.
I have started my Urban Gardens no dig no till no weeds high yield small space. I have plenty of land. Perhaps once my organic veggies are in it might help to inspire
Success and Challenge:
Some of us are trying to develop arts and culture to fill our downtown and historic homes and to attract new residents. We have had some success.
The chamber of commerce is working hard and making progress but doesn't have enough volunteers.
Our economic development organization is ineffectual, and our county economic development office is planning projects and deciding what's going to happen here without including all the residents.
Success and Challenge:
Sports, Arts events, and festivals that are geared toward children in elementary school work well.
Once kids move on to Middle School, both parents and children seem to disengage.
Then there are the challenges that really are opportunities or possibilities.
The community is largely maker driven, a Farmer's Market as a town essentially. We need more makers to fill the empty storefronts & market ourselves as an arts district/ maker  own to attract more tourism & adjust locals' expectations. Public art be a welcome addition, especially employing local artists.
We started an annual music festival to raise $ for new park equipment but covid shut it down this year. The co-op generates very little sales tax as most items sold are tax exempt. We have issues finding volunteers to help, it always falls on the same people.  (This is a town of 150 people)
We are a small community under 10k.  We are a heavy manufacturing area and also popular among businesses because of our location on the interstate.  There is no college in our town and we are an aging community.  There are not a lot of arts here.
Getting grant money for art and infrastructure projects, running events… but not getting enough people involved to really get the word out and build excitement.
Help, the majority of volunteers are aging and we need young people to take their place at museums, art galleries, etc.
A bar started a farmers' market last year, they loaded it so overpriced with so many requirements costs that tiny businesses and gardeners as well as small farmers could not afford the startup cost of equipment- tables, tents 100 a month fee for 2 Friday afternoons. A few folks tried to sell farm fresh eggs but at $4.00 a dozen or $1.00 per potato without accepting food stamps, they had few sales.
We have venue space in our winery and a lovely, scenic property 2 miles south of town. But every week I hear people say they didn't know we were here (this is our first full season open at this location).
There were several successes too.
We are a locally owned traditional Hawaiian shaved ice shop that is open all year around and adds artisan hot drinks to our menu in the cold months. We bill ourselves as a place where time slows down for an evening, and we provide sidewalk seating in the summer. Our goal is to be our Main Street living room. Our best feedback is how glad people are that there is a place to gather again on Main.
It has taken awhile for the community to catch on but they are now loving the arts/maker focused group that was started in town
Making good progress on things people are passionate about. Second year of our Farmer & Artisan Market.
Several shared evaluations of what was working well and what was not.
Selling tarts, going well. Handmade food cafe going ok but off- season is difficult during the week. Specialty retail is ok. Workshops so-so.
We are making progress in our Arts Council. Grants have gone well. The Chamber of Commerce has become a disgusting organization run by inexperienced people who are working for themselves, and not for the total community.
Working well: personally inviting artists and performers to use our space. Not so well: getting people to buy a $15 bottle of Iowa wine vs $6 California wine at the grocery store. I'm trying to work on "the wine experience" of the winery but not many locals care about that, so that's why I'm focusing more on tourism.
What steps can you take to address the challenges and support the successes in your community?
Look and listen to the success stories of other communities. Start with the Results page at https://saveyour.town/results-real-people-real-towns/ You'll hear about :
Colfax, WA is where they share crack art, chain link fences, and murals.
Warren County, IA talks about how they dressed up an empty hole in the ground with banners.
Gordo, AL has a learning block where you can try out your business ideas and grow. Dance, art, music, baton, sewing and a Makers Market are all there.
Use your empty buildings to showcase your art. They did it in Athens, PA.
How can you bring art to your community? Not just the visual arts, but also quilting, forging, refinishing furniture, chalking your driveway, gardening and more.
Using art to build community, one project at a time. It helps make our communities stronger when we can connect through these various methods of creation. We've learned that people are just waiting for someone to start something, and then they will jump in and participate. Saving the movie theater in Webster City changed how people viewed their future.
Art in the Rural. Art projects, events and pieces are often the last thing towns think of when it comes to economic development. There is a bit of a tendency for people to think of art as something other people do.
Smart business ideas in small towns. Small retail spaces like retail collectives and shed markets generate prosperity for rural areas and small towns
Small steps can build identity. What kind of small steps can you take in your town and be like a ninja?
The survey produced by SmallBizSurvival.com and SaveYour.Town collected voluntary responses online in the fourth quarter of 2022.The survey was open to rural people globally: USA, Canada, Australia, and New Zealand. Anyone who lives or works in small towns answered the survey. Since 2015, over 1700 people and small business owners answered the Survey of Rural Challenges.
 Results from 2015, 2017, 2019, 2021 and 2023 and links to media coverage are available at https://saveyour.town/survey-of-rural-challenges-news

Everyone is encouraged to share the results in your community and to your members, subscribers, readers, followers or friends. "You can put it in your newsletter, on social media, in Facebook groups, on your website, or anywhere else you think rural people will be likely to see it," said Brown.
Requests for interviews can be directed to deb@saveyour.town.