Adam Lee is a client of  Debworks.  Adam is a singer and guitar players of great skill.  He lives in Omaha and performs as often as he can in the Midwest.  Last weekend Mel and I met up with Adam on Saturday and took a wine trail tour and started building Adam's portfolio for marketing.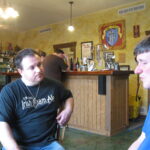 We started last Saturday at Kings Crossing Winery.  They have a small winery and vineyard.  100% of their wines are made from Iowa grown grapes, apples and honey.  It's not a big place, but I'm starting to notice many of the wineries in Iowa are that way.  We enjoyed the tasting, company and music.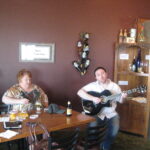 Next on our stop was Prairie Crossing Winery . It's family owned and operated and their wines were also good!  Adam played a couple of songs here, and booked a Mother's Day Concert.
I am not a wine expert.  I know that I prefer a dry red, and in Iowa – that's not common.  It's been my good luck to find some good tasting dry, red wines in Iowa.  Many of the wines are sweeter in Iowa.  It's been my even better luck to be able to work with Adam Lee.  He's a musician through and through and a damn good one at that.  Adam also is personable and knows how to get a great performance.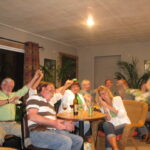 Next on our wine stop was Wabash Wine Company.  We had a table right in front of the performer (Adam) and we drank their St. Patrick's Sangria.  The crowd in the place was pretty rowdy (see picture) and Adam did a fine job of performing and entertaining.  It's a skill to be able to control a rowdy crowd!
All throughout the day we wandered the country side and took pictures of Adam for his bio, website, media kit and personal use.  It was wonderful exploring old locations to take new pictures in!
Have a listen to Adam perform an original piece of us called Market Street.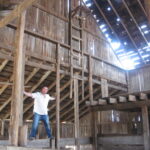 Here's another song by Adam, called Harvest of Love.