This little spot in the small town of Malvern, Iowa is far from classic.
Unless you define classic as: best breakfast of eggs, toast and bacon ever eaten, Americano to rival those in Italy, artwork bigger than life, ambiance that every woman dreams of, conversation with people who work there that made you feel right at home, and neato frito interior!
My friend Mel and I took a little road trip this past weekend down to Southwest Iowa.  We visited five wineries, heard Adam Lee in concert and ate breakfast in Malvern.  The Classic Cafe rates high on the scale of restaurants I've visited around the world.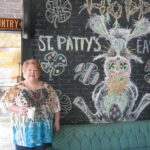 On the north side of the place is the full bar, seating area and artwork scattered around the room.  Plenty of room to dancing, schmoozing and enjoying the evening.   Mel is pictured here (with her coffee) in front of the chalkboard wall.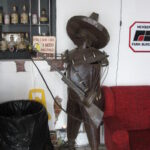 Of course the bar has a Don Quixote ready and willing to have a good time.
On the south side of the place are two huge windows, one loaded with goodies you can purchase, the other has seats you can relax in.  There's oversized artwork on the walls and Desiderata posted boldly for the world to see.  Booths are along one wall, the coffee bar on the other wall.  Through the swinging doors is the kitchen.  I peeked, stainless steel and a good looking cook were back there!
Did I mention the home made baked goods?  The waitress who used to own the place and now is happier than a pig in mud to work there?  A brother and sister and their spouses now own it – and they have the fever.  That would be small towns are great fever – take a lesson from them.  They got it right.