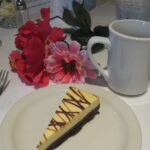 Last night I went to the Rotary Spring Party at the County Club.  We had great food, a good presentation on Admiral Leahy and the company was excellent.
The theme for this week's Project 52 is Hunger.  My picture is of two flowers and a piece of cheesecake.  Upon first glance, you might think the cheesecake was what I was hungry for.  So, did my craving for sugar, which I satisfied, address the Hunger theme?  No, not really.
The two flowers are significant.  There was a 50/50 raffle last night.  Half of the money went to support Rotary causes and half went to the winner of the raffle.  The MC asked the men in the room to get up and buy a flower for their loved ones.  I didn't have a 'man in the room'.  Imagine my surprise when John, Deb's husband, brought back flowers to the women at the table!  Ron also brought over flowers to the single women at our table.  It doesn't sound like much, a $5 flower, but the sentiment expressed it all.  Those flowers represent friendship, dedication to a cause and a satisfaction of the Hunger to belong.
We're all hungry for something.
The flowers