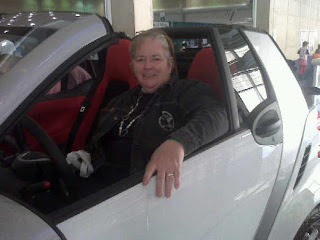 I was in Rome in January 2000 and first saw the smart car.  I fell in love with it immediately.  All my friends know I'm crazy about the smart car.  
It just became available in January 2008 in the U.S.    I had not been near a dealership, or seen the Smart Car out and about. 
Finally, this weekend, at the Natural Living Expo in Des Moines there was a smart car.
 They were actually one of the Silver Sponsors.  The car itself was located in the lobby.
I walked past it all afternoon Sunday.
 I didn't stop because there were 4 young girls (tweens) in the car listening to the radio.  I never did see a sales rep.
Finally, I stopped and asked the girls to get out.  They looked at me strange and said they were allowed to be in the car.  I asked again, explaining I wanted to sit in the car.  They got out.
 I asked one of the girls to take my phone and take my pictur
e.  She graciously did so.  
The minute I got in the car, several adults came over and were looking at the car.  
One couple thanked me for asking the girls to get out.  They were considering buying a Smart Car and really wanted to get a closer look.  
I asked the young girls where the sales rep was, and they told me he said they could sit in the car.  I laughed and asked again.  They didn't know.
There was a small brochure on the windshield of the car.  I took one.  I've called the smart center La Vista and requested to speak to someone about what happened over the weekend.  I ended up leaving a message for Andrea to call me tomorrow morning.  We'll see.  
Bad customer service.  Extremely.
  I wonder why that was so?  Was it better on Saturday?  How many sales did they lose?  Can they afford to provide this kind of service?  Is the smart car in such high demand that they can provide this kind of customer service?  
I still love the car.  I will probably get one with the Senior Director promotion sometime this year.  
But I probably won't buy it from this dealership.  Too bad for them.  I wonder how many other sales they lost?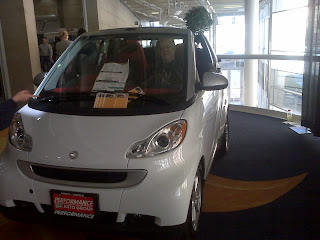 8.8 feet long, 5.1 feet side and 5.1 feet tall
the smart safety system has a tridion safety cell, made from reinforced steel similar to a racecar roll cage
the vehicle has four airbags
esp and abs as standard
over 1,000,000 smart vehicles have been sold in 36 other countries throughout the world
70 hp, 3 cylinder, 1 liter gasoline powered engine
2009 EPA MPG rating of 33 city/41 highway
top speed 90 mph
2008 smart fortwo coupe received the highest 
front and side crashworthiness ratings from the Insurance Institute for HIghway Safety 
In all fairness to smart center La Vista, I have left a voicemail message and sent an email.  Let's see if they respond!