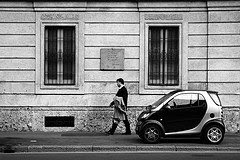 I spoke with Andrea from smart center La Vista today.  
Andrea informed me they have 3 employees at her store and one man was at the Expo this weekend
.  He had a great weekend, met a lot of people and answered a lot of questions.  She did say
perhaps he was on a bathroom break when I came by.  Or maybe he was talking to other vendors.
 This was their first trip to an event like this in the area and these vendors are the kind of people that are their customers.  I did explain I was there from at least one to three thirty Sunday and kept coming back to look for the sales rep – and never found him.  
I asked her to leave a comment on the blog perhaps explaining that.  She declined.
 It is not their policy.
 As long as they have a conversation with the customer (me) and its good, that is their directive.   She did say it was too bad I blogged about the experience before calling them.  
I think with the advent of usage of social media by everyday blokes like me – things are going to be a lot more transparent.
 Not in a big brother kind of way.   But in a take pride in what you do way – we are all watching.  
I also asked Andrea what social media tools they use.
 She did say they have a blog.  Amanda is the brand manager for her company.
Let me say that I LOVE THE SMART CAR!
 I'm sure that one day I will have one.  And that day will be this year.  
I also think that the smart car people could be more proactive and be on twitter
.  Check out @cavan at the Des Moines Register.  He addresses questions people may have, he works with bloggers in Iowa.  Or @bestbuyremix – Keith Burtis is always available to address any questions or issues about Best Buy. 
 Some of the biggest car companies are on twitter
and are using it as a vehicle to talk to customers, fight misconceptions and drive people into the showroom.  @AdamDenison is the Chevrolet guy on twitter. @ScottMonty  is from Ford. @Alicia_at_Honda is the woman from Honda.   Check out
Mashables Top 40 Best Twitter Brands
.  
I think every retail kind of business should be on Twitter.  But hey, that's just my opinion.
What do you think?