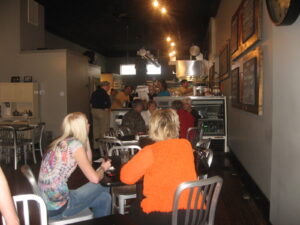 There's a little place in Clarion, Iowa called Grounded.  You can eat breakfast, lunch and dinner there.
Mel and I went for brunch one Sunday.  There was an area buffet – potatoes, gravy, hot beef and more. Of course you wanted a muffin or scone or bread pudding – and they had it.  Coffee! I had an Americano.  And finally, an omelet made to order.  It was a lot of food for a little money ($12).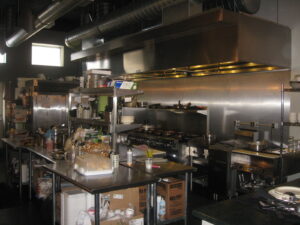 Appetizers like fog horn leg horn (corn chips with chicken, cheese, lettuce, tomatoes, onions, peppers and sour cream); salads like the Hail Caesar (yes, caesar salad); an entree like oink and moo (grilled bacon wrapped meatloaf served with real garlic mashed potatoes and fresh grilled vegetables; specialty burgers and pizzas, kids food – and nothing over $14.  All cooked out in the open where you can see your food being prepared, if you so desire.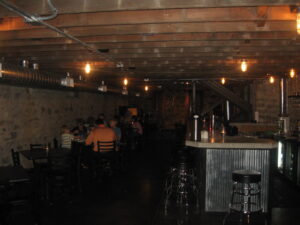 All of this was on the main floor.  However, there were stairs headed down – and I explored.  A place called Ungrounded existed underneath the restaurant.  A home to local musicians who perform on the weekend.  A place to have a glass of wine, an imported beer, maybe a gluten free cocktail.  Have a small private party if you wish, or just invite your friends over for a nosh.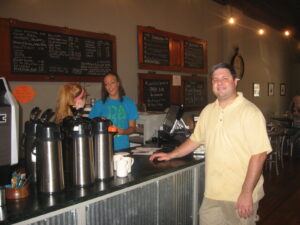 Cory is the manager.  He used to work at the bank, but he took a cut in pay and doubled his hours – and has never been happier.   His wife works there too.  Every employee we saw was friendly, helpful and just damn happy.  Visit the website www.groundedwright.com (they are in Wright County) or stop in at 118 N Main in downtown Clarion.
(the menu is written on an old door … look close, its cool)
Welcome to Small Biz Friday – where we feature a small, local business doing things in a smalltown kind of way.  Don't be thrown by the word smalltown – it simply means they've learned how to develop relationships with their customers, take good care of them and treat them like family — it's what we do in small towns.