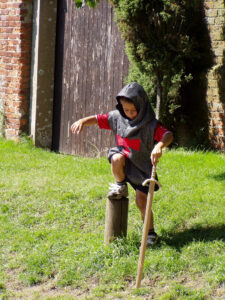 Barbara Winters is joyfully jobless, and one of my favorite people to listen very close to.  Today she is guest blogging for us.  You can follow her at www.joyfullyjobless.com
During the Middle Ages, knights set out in droves in search of the Holy Grail. Many of these quests lasted for years and, as you may recall, did not end in success. Of course, other adventures awaited them  along the way so even though the goal remained elusive, it did not deter those hearty pilgrims from setting out over and over again.
As much as I loved those romantic stories when we studied them in school, I don't recall any teacher suggesting we follow in the footsteps of those explorers.
It seems to me that there'd be considerably less frustration in this world if more modern day Sir Galahads took up a quest of their own.
What about conducting a Passion Quest? Or an Inspiration Quest? Or a Joyfully Jobless Quest? Or an I Need a New Adventure Quest?
With that in mind, here are some things to include when embarking on your next quest.
Sharpen your focus. This isn't about aimless wandering, after all,so taking time to get clear about the purpose of your expedition is important. Don't just consider the destination, however. Before starting out get as clear as possible about the benefits and rewards you expect to receive.

If, for instance, you're conducting a search to find ways to turn a passion into a profit center, the rewards could include more fun, more money, more satisfaction, more opportunities, more creative activity, plus new and interesting people.


Prepare for the trip. My granddaughter started playing soccer again a few weeks ago. She told me that on the first night of practice, a new team member showed up wearing flip-flops. Zoe was incredulous and wondered if the girl's mother had never seen a soccer game.

Your quest may require a bit of preliminary research as well. Or it may require regular pep talks  to get you moving. Most importantly, embark on any quest with an open mind.


Refuse to be thrown off course. If you're traveling into new territory, expect that detours, dead ends and dragons will be part of your experience. These don't have to be stop signs, however. Savvy travelers use twists and turns to clarify their objectives and intensify their commitment.

Remember, too, that just because you have not yet found what you're looking for doesn't mean that it doesn't exist. Keep going.


Join forces with fellow seekers. One of the pleasant surprises of a new exploration is discovering others who share your curiosity. We live in a world of parallel universes so connect with those who can share their knowledge, experience and expertise with you.

Record your journey. Take good notes-and photographs, if appropriate. Gather ideas and supporting material in a file.

We tend to think our memories are more reliable than they actually are. As Richard Bach reminded us, "'I'll never forget this,' is the Devil's whisper."


Ask questions that pull you forward. Too many of us ask questions that stop us in our tracks. A question such as, "Why aren't I motivated?" doesn't produce the same outcome as asking, "What can I do to bring more inspiration into my life and the lives of those around me?"

"At the end of the day, the questions we ask of ourselves determine the type of people that we will become," says Leo Babauta.

Listen to the questions you ask yourself and others and see if they are opening the doors to creativity and opportunity-or producing the opposite result.
Is it worth it to embark on a quest? Ralph Waldo Emerson believed it was. As he wrote in a lovely poem, "They shall return, More than they were."
You will, too.