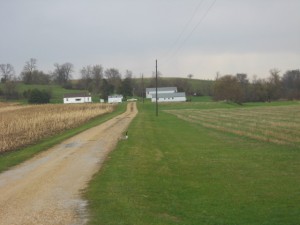 My dad is in the hospital. Has been for almost a month now.  He's got diabetes, heart disease, arthritis, and Alzheimer's.  In the past 4 days his mental state has rapidly deteriorated and his blood sugar is low.  The nurse tells me the low blood sugar or perhaps a urinary tract infection can cause the confusion (especially in the elderly).  They are doing many tests.
Monday is his release date.   Apparently, with Medicare you can only stay in the hospital so long.  Then you either go home or go to a nursing home.  Dad is in no shape to go home and my mom can't take care of him.  That means it's the nursing home for Dad.
Did you know nursing homes run about $150 a day? If you own land and have not made arrangements to gift it to your kids at least five years prior to going into a home, you'll have to sell it to pay for the nursing home.  Unless you have tons of money in the bank.
My grandfather bought the farm I live on and my dad has been farming it ever since.  My folks have sold the back end (to pay for medical expenses like medicine dad needs to live).  Now it looks like they'll get to sell the rest of it to pay for the nursing home.  There goes the family farm.
So let's see, not only do we get to worry about Dad being so sick, now we get to stress out over the sale of the family farm.  For me, I get to move.