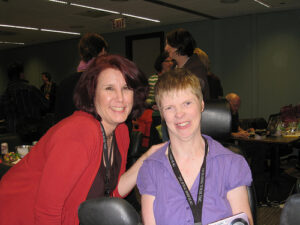 I'm going on a 3 hour road trip next Sunday. With two friends.  Becky and I can talk for the 3 hour drive with no problem.  Glenda can't.  She has cerebral palsy.  We'll take apart her 150 pound chair and put it in the trunk.  We'll get her in the car too (not in the trunk though!)
But how will we communicate with her? She has use of her left thumb to type with and that's how she blogs at www.doitmyselfblog.com  She doesn't talk, unless she is using her computer to voice machine and then she has to type with her left thumb.
I sent her an email asking her how we can talk. Would it help to have some ideas from her on what she'd like to hear Becky and I talk about?  Is there something I don't know?
Yeah, I'm an accessibility idiot.  The last time I had a friend with cerebral palsy was 30 years ago, and there were no home computers then.  We talked with hand movements and eye contact.  I'm sure Glenda and I will do that too.  Until now, we've only talked online. That my friends, is the beauty of social media!
Glenda wrote that an ipad just may end up in her possession this week.  Do you think there's a way to use it easily and communicate with us?
One more thing – if you know how Glenda could get into an Oprah taping, for the love of God please let me know.  She made the trek to Harpo Studios last year to see if she could get in.
many thanks to Chris Cree and his lovely bride for the picture of Lisa and Glenda