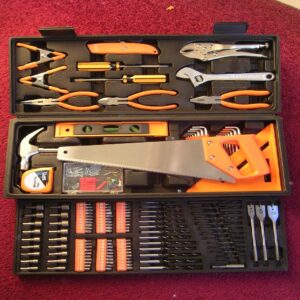 The registration is open for the Toolkit! 
Okay, so it is a toolkit with lots of tools on how to host a Tour of Empty Buildings.  But you don't need saws, hammers and drills.  You simply need empty buildings in your town that need to be filled, a desire to fill them and the willingness to try what has worked in other towns.
We held a tour in April of 2013 of 12 of some of our empty buildings in Webster City, Iowa.  Take a quick look at what we did so you can imagine what you'll do for your town.
There were 12 empty buildings, mostly downtown.  I started with talking to building owners and realtors to get permission to showcase their buildings.  Then I worked on getting the history of each building so our champions could effectively tell the stories of what used to be in the buildings.  The City Manager and a local construction company owner and I visited about city codes and issues that may affect the buildings.
Then we built our team – volunteers, building owners, realtors, chamber champions and board members came together.  We marketed it well and we held the tour.  The tour happened from 5 to 8 pm with treats at the local Hy-Vee afterwards.  People picked up maps at the Chamber office or online and took part in the self-guided walking tour.  Some went to every building; some went to only a few.  The realtors/owners shared info about the building like square footage and tours of the spaces the public doesn't normally see.  The Champions told stories.  Great conversations happened at the coffee shop after the event!
After the tour was over, we shared the stories, the pictures, the fun from the evening and began talking to everyone we knew and didn't know using many forms of conversation.  In person, over the phone, on the internet and in writing – we didn't miss a beat.
Today – 10 of the 12 buildings are full.  An incubator project, pop ups for various events, new businesses, expansions have all occurred since the tour.  Community pride is returning!
Now it's your turn – imagine your community as you go through your toolkit. Who will you enlist to bring the magic to your town?
Go to www.saveyour.town and register for the course – it closes October 31 and we don't want you to miss it!