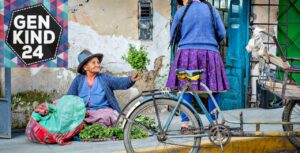 Kindness really matters. Often it's the real difference in relationships. My misfit friends are hosting 24 hours of speakers in an online free conference called GenKind24. Take a look at this speaker lineup!
I'm asking you to take an hour out of your day to listen to one of these phenomenal speakers – and to share this post with 3 friends. Be kind.
Here's the link to the speaker schedule –
http://genkind24.com/genkind24-live-schedule/
Here's the link to the blab –
https://blab.im/jane-boyd-genkind24-live-24-hours-to-shine-…
Kindness matters. It engages every aspect of our psyche and practicing kindness can make us healthier and happier. Kindness makes the world a better place.
These are just some of the reasons award-winning author Catherine Ryan Hyde (Pay It Forward), TED speaker and author Matthew Emerzian, and Director of the Random Acts of Kindness Foundation Brooke Jones, among many others, are presenting at GenKind24 LIVE, the world's first online 24+ hour event dedicated to kindness and generosity.
GenKind24 LIVE is a Global Event being held online October 21-23, 2015, featuring almost 30 speakers over more than 24 hours. Hosted by the GenKind24 Team based in Greater Vancouver, British Columbia, Cork, Ireland, and Philadelphia, PA USA, attendees will be encouraged to participate in a Q&A with each speaker and interact with the hosts to tell the world "Why kindness matters." According to GenKind24 co-founder John M. Sweeney, "More than 1,200 people have contacted us through our website and shown interest in participating in the event. Thousands more have expressed a real excitement in joining when I shared it with my network of 300,000 people on Suspended Coffees. People were so positive about the potential impact of having a day to shine a light on kindness and generosity."
Added GenKind24 co-founder Jane Boyd, "Our speakers all have enormous impact and reach throughout the world, especially when it comes to kindness and generosity. We believe that the event will live on beyond October 21-23 and that hundreds of thousands of people around the world will be positively impacted by what we're doing." The GenKind24 team are passionate about the event.
Third co-founder Gigi Peterkin echoed her partners' sentiments, "There are so many different ways to be kind to ourselves and others, and we don't know the impact our kindness can have on another human being. If people can dedicate even an hour of time on October 21-23 toward being kind – buy a stranger a cup of coffee, smile at everyone you pass on the street, tell people you meet to have a good day – those small acts can have real meaning.