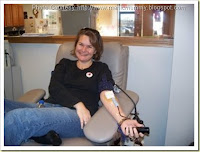 Have you given blood?  Why not?  Do you know one pint of blood saves three lifes (and families)?
Manic Mommy is hosting her second annual Virtual Blood Drive.  Donate anytime between now and February 28, 2009; email a pic of you donating blood to manicmommy@comcast.net.  Inspirational stories and photos will be posted every Sunday.  Be sure to include your name, address, phone and email! 
Besides lots of fun prizes throughout, there will be one random winner of luxury accomodations for six days and five nights at Sandestin Golf and Beach resort.