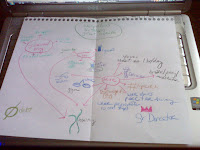 Friday morning I started the mindmapping process.  I was going to have three goals (see bottom of pic): zero debt, healthy, Sr. Director in my business.
I started with Healthy.  Drew a cool pic at the middle bottom of the page.  Then I thought about what I had to do to get healthy.  I came up with three major themes.  What I take into my body, move and journal/blog.   They got put into red circles.
Next step, concentrate on one of the three major themes.  I went with move first.  Around move I put: 
Swim
walk
gym
eat week
liquids
make time 1 hr/day
dance
breathe/pray/meditate
hopscotch
weights
wear pedometer
10,000 steps a day
walk stairs
park far away
Under in:
vitamins
eat well
liquids
green team
under journal/blog
thoughts
dreams/goals
travelwoman (blog site)
create time
At the very top of the page is:
weight loss
no meds
great health
My goals to obtain healthy!
I will do a mind map for zero debt and one for Sr. Director on another sheet of paper.
Because of who I am, I will redo these in a word application and then post them on my wall.  As I come up with other ideas,  I can add them.
That, my friends – is a simple mindmap.