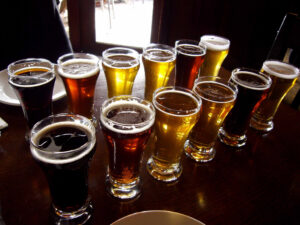 What if you found a way to help entrepreneurs and small businesses repopulate a downtown district?  And what if that made your community a place people would travel to from all over the state?
Brookings, SD is off to a great start doing just that.  Their city council just passed the Retail Acceleration Grant Program.  It is right now a one time shot at obtaining a portion of the funds for 1/2 of your costs to begin a business.  They will conduct sustainability evaluations and monitor it very closely.  But they have approved it and are beginning!  The Grant begins:
Mission/Background:  The  City  of  Brookings  recognizes  both  its  proximity  to  the  region's   largest  shopping  destination  as  well  the  dramatic  shifts  in  the  retail  marketplace  minimize  its   ability  to  to  attract  traditional  "big  box  retail".    Therefore,  the  City  wishes  to  leverage  its   existing  niche  position  as  a  university  community  and  home  to  high  quality,  unique  tourism   attractions  and  events,  and  focus  on  building  a  robust  speciality  retail  and  entertainment   district  in  order  to  build  its  economic  and  amenity  base.    This  proposed  program  augments   the  current  retail  development  strategy.  
II. Purpose:  The  purpose  of  the  Brookings'  Retail  Acceleration  Grant  Competition  is  to  attract  
new  retail  and  entertainment  concepts  to  the  Central  Business  District  (CBD)  and  attract   dedicated  entrepreneurs  to  the  available  spaces  in  the  CBD;;  particularly  in  the  following   categories.    
A. Children/family  retail    
B. General  gifts  and  novelties    
C. Lifestyle  and  wellness  retail    
D. Local  and  global  artisans  
E. Sustainable  food  and  microbrewing    
Doesn't this just make you want to put on your thinking cap and figure out how you could do this too?  My hat is whirring ….
Our thanks to David Merhab of the Brookings Chamber of Commerce for sharing this wonderful news.  Reach out to David at david@brookingschamber.org with your questions.  And hey, share your answers with us here!